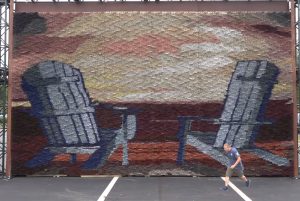 Hundreds of Lowe's shoppers and guests have just helped to build the largest paintbrush mosaic in the world at 350 total square feet.
The massive paintbrush mosaic is made up of stained Adirondack chairs overlooking a colorful sunset began and was made by Lowe's in partnership with Olympic Maximum Stain.
The mosaic was completed and awarded the Guinness World Records title at an event in Charlotte, near the Lowe's headquarters. Representatives of Lowe's stores and Olympic Paints and Stains joined customers and Guinness World Records adjudicator Michael Furnari to see the final mosaic unveiled in a curtain-drop ceremony.
"We were able to make a big splash throughout the Olympic Maximum tour with the paintbrush mosaic. Consumers loved being a part of the record-breaking process at each stop along the tour, and it was as memorable for them as it was for us. This accomplishment would not have been possible without our customers' involvement and engagement in the Olympic Maximum stain demonstrations." commented Alison Bruce, PPG senior channel manager with Olympic stains.
Comments
comments