Charlotte won big in the nation-wide $1 million 'Play Everywhere Challenge'. Three separate Queen City organizations were among the 50 winners.
The contest was primarily sponsored by the Robert Wood Johnson Foundation – it's goal was to "help uncover the best replicable, scalable innovations in city redevelopment and design that will make play easy, available and fun for all kids and families".
The Charlotte winners included The Center City Partner's new Rail Trail Symphony, the Konnected Foundation's SPARK project, and The City of Charlotte's GovPorch project.
The Center City Partner's winning 'Rail Trail Symphony' will include an installation of colorful, life-sized musical instruments that will allow residents to have spontaneous jam sessions with each other.
Kids and families will bang on drums and chimes, sing to passersby from a performance platform, scribble favorite lyrics on a chalkboard, dance on imaginative stamped concrete, and jump on creative seating.
The Konnected Foundation's SPARK (Socialize. Play. Accommodate to Reach Kids) project will be the first of its kind in Charlotte, it will include several interactive installments near Beatties Ford and Central Ave for local families to meet, socialize, and become more active at their local bus stop and in the nearby park.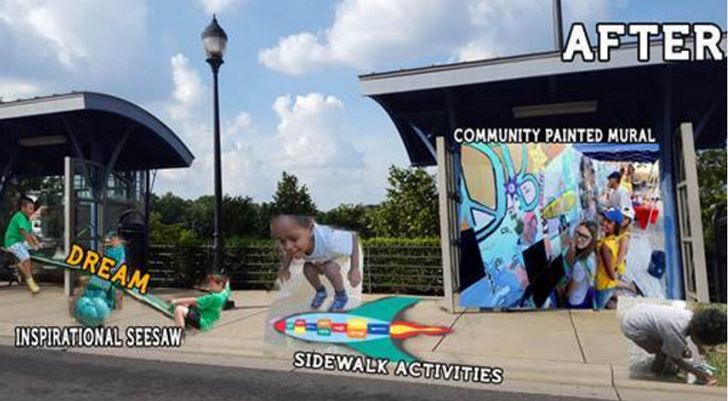 The third Charlotte winner is The City of Charlotte's GovPorch project, with a goal of re-imagining the Charlotte-Mecklenburg Government Center Plaza to include:
"A Playground for All"

Colorful porch swings
Platforms that cover the unused fountains that kids and visitors can sit on, climb on, and play on with themes that prompt discovery (See c. and d.)
Outdoor bean bags
An iconic custom hornets' nest for children to play and climb on
Ping pong tables
Life size legos and cars – a mini build your own Charlotte
Shade sails so rest and play can be more comfortable

"A Library Garden"

Colorful, glow-in the dark pots and plants
Rocking chairs for adults and children
Wall fountains
A library station where kids and grown up kids can borrow books

"Accessibility and Connection to the Public"

Child-painted stepping stones that traverse a grade change that separates the space from the sidewalk
Platforms with colorful seating to provide more activity between the project and public realm
Fun, Can-Do signage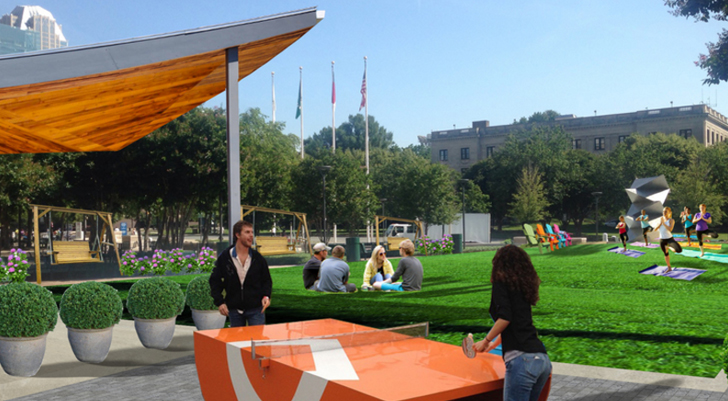 Each of the three Charlotte winners will receive a grant in the amount of $20,000 for each of their projects.
It looks like Charlotte is about to get a lot more interactive.
Comments
comments