At around noon today, a large crowd began to gather in Marshall Park to support the national #ADayWithoutImmigrants movement.
At around 1pm, the crowd began to file out of the park and onto the streets of Uptown Charlotte to protest what they believed to be oppressive policies by the Trump Administration.
Charlotte city leaders originally thought that about 500 people would gather, but they now estimate that there were between 7,000-8,000 people participating in today's protest and march, the largest Hispanic march our city has ever seen.
I spoke with a few of the protesters about why they were marching and what they wanted to see change:
Here are a few shots from the march: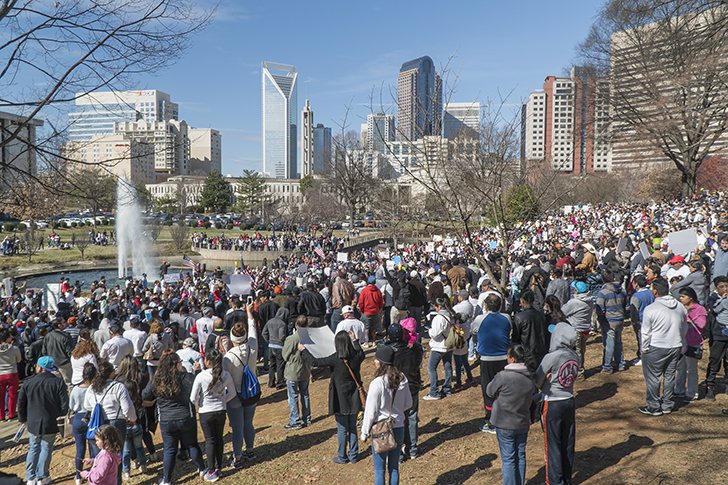 In addition to today's protests in Uptown, there were at least 250 businesses that shut down for the day, and about 450 students were absent from Nations Ford Elementary School (a school with a large Hispanic population), some class rooms only had 2 kids in them today, according to CMS leaders.
I spoke with several parents this afternoon who told me that they kept their kids home from school today so they could march and take a stand together against what they believe to be oppressive policies and fear of increased deportations.
The City of Charlotte recently released a long statement trying to calm fears by saying that ICE agents have not been increasing their arrests or deportations, but that their recent actions have been consistent with previous activity and are not a new threat.
City of Charlotte Statement on Immigration Enforcement #CLTCC pic.twitter.com/d7KNa6bgi5

— City of Charlotte (@CLTgov) February 16, 2017
The city also said that since it has been abiding by current state and federal laws, it does not foresee any changes in terms of its immigration policy anytime soon.
How do you feel about the Trump administrations recent actions regarding immigration, refugees, and our borders?
How do you feel about today's march?
Comments
comments