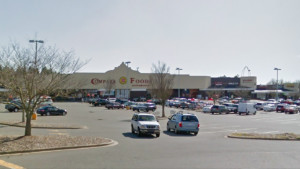 Restaurants, grocery stores, and other immigrant-owned businesses in Charlotte will be closing their doors today, in support of the national movement called a "Day Without Immigrants".
The grassroots movement seeks to protest President Donald Trump's immigration policies and highlight the contributions of the immigrant community throughout the country.
Millions of citizens and non-citizens alike have been spreading the movement online using #ADayWithoutImmigrants, as well as in local papers, flyers, and via word of mouth. The movement calls for for participants to skip work and school, close businesses and avoid making any purchases.
One of the #ADayWithoutImmigrants flyers being shared on social media. pic.twitter.com/kXGCH9aSqr

— Justin Finch (@JustinNBC4) February 16, 2017
"One day is not going to be a big deal, but once they start deporting (immigrants), it's going to start making a difference," Juan Rodríguez, a U.S. citizen from Colombia, commented. "Businesses will be closing. Mortgages won't be paid…the economy will start to slow down."
Here in Charlotte, one of the largest chains to be closing its doors will be Compare Foods, a grocery store with 7 locations around our city.
Business all along Central Ave. have also stated that they will be shutting down for the day, including Sav-Way grocery store and Las Delicias Bakery.
According to the Spanish language Hola Noticias website, these are the business that are closed today around the Charlotte area:
A&N Torres Construction Inc.
AA Insurance & Tax Services
AA Painting
Abogado David Petney
Adamary's Pupuseria
AE Computadoras
All Bright Painting & Drywall
All Family Dentistry (Dr.. Luz Chávez)
Allah Auto Glass
Alma de la Luna Academia de Danza
Anthony's
Ardiente Productions
Arepas Grill Restaurant
Arrowood Dental (Dr. Luz Chávez)
Atlantic Farmer Market
Auto Service Red Line
AveLar Company
Ayuda Hispana Professional Services
Azteca de Gastonia
Azteca Restaurant
Bakery Ticopan
Bakery Ticopan (Lincolnton)
Bakery Yamilet
Barrios Truck Tire Service INC.
Benitez Trucking Co.
Berakah Insurance
Blue Wave Carwash
Boost mobile-pronto
Brothers tae Kwon do
C-Town
C&F Trucking LLC
Carniceria morelos, Monroe
Carnitas Guanajuato
Carwax Detail Service
CCS &' R&C
Cecil giros internacionales
Centro Mobile
Checks Cashed Plus
Cinco de Mayo, Concord
Cisco Landscape Group
Cocina Latina on Central Avenue
Compare Foods
Corniceria Alto morelos
Cox Landscape
Cruz Painting
Depo auto sales
Depo tires
Dina's Restaurant
Dinney Remodeling Services
Distribuidora Los Primos
Don Juan Bakery
Don Pedro's Restaurant
E&D Auto Repair
El Bohío Tipico
El cafetal
El Copán Restaurant
EL Duranguense Western Wear
El Mercado Tienda Mexican, Monroe
El Rey del Pollo
El Taco Veloz
Elegance Hair Salon
Emma Hair Salon
Estetica Nayeli
F&C General Construction
Fabian Auto Service, Concord
Felicia's Beauty Salon
Fiesta Futbol League
KEA Flooring Inc.
Fiesta Jalisco
Fiesta Mexicana, Concord
First Class Painting
Flix Vic Auto Repair
Flores Crane Services
Fonda La Taquiza
Fonda Las Cazuelas
Formula Euro
G & P contractors
G& G Tires Service
G&Y Computers
GCL Landscape
Genesis Salon
Georges Beauty Salon
Global Sports Indoor Soccer
Henrison Electronics
Hernandez Granite and Tile
Hidalgo Construction
Hidalguense Super Market
House of Styles
Hrd Siding
Imagine Inc
J. Alvarez Framing
C lawn and landscaping
G. painting
J&H trim group
J&R Auto repair
Java Tile
Jimenez Painting
JMS Pressure Washing.
Jugolandia
Klever Auto Repair
La Adelita Tienda Hispana
La Alcancia in Salisbury
La azteca Tortillería in Monroe
La Catracha Restaurant
La Fortuna No. 8
La Guerrerense
La Huasteca
La Lupitas in China Grove
La Palma Super Market
La Pasadita in Huntersville
La Perlita
La Riviera Marisquería
La Rumba de Cache
La Tienda de las Maravillas
La Tienda Mi País Latino in Concord
La Única on South Boulevard
La Única Supermarket
Las Americas, Rock Hill
Las Delicias Bakery
Las Meras Tortas
Latin Soccer League
Latino Grill
Latino Multiservices
Latorre Insurance
Latorre Law Firm
Lempirita- Sharon West
Lili's Beauty Salon
Loco's Tacos
Locust Granite & Tile
Lone Star Painting
Los Reyes in Concord
M&D Carpentry LLC
Macias Construction
Marchino Group
Marcos Car Wash
Mariachi North Tryon
MasXMenos
Mayo's Concrete
Mayo's Farm
Mcneill's Frame Shop
Meknica Body Shop
Melendez Cleaner
México Central Foods inc
México Chiquito
Mexico Chiquito 2
MEXITAX
Mi País Latino Supermarket
Mi Tiendita Super Market
Mi Tierrita Sabor Latino
Molinas Auto Repair
Monterrey in Monroe
Morazán Central Ave.
Mr G Auto Service
Mr Gus
Multifajas Latinas
NC Irazu painting
NC Latin Soccer League
New York Pizza on South Boulevard
Nohemis Nutrition Club
Padillas Latin Services
Paint Studio Ace
Paletería Cocos Locos
Panadería El Quetzal
Panadería Encino
Panaderia la Reyna
Panadería Odalys
Paola Alban Realtors
Paquitos Barber-Shop
Parrillada Che Gaucho
Peluquerás Marinelos
Peluqueria Mexicali
Peralta Salon
Plaza Romeros
Polllos asados el regio
Pollo Royal
Portofinos Italian restaurant
R&Y Mart
Ramírez painting
Re Tax Financial
Realty Plaza Inc
Restaurant Acapulco, Kannapolis
Restaurante Antojitos Catrachos
Restaurante Cuscatlán
Restaurante El Agave
Restaurante El Pulgarcito
Restaurante Guatelinda
Restaurante La Poblanita
Restaurante La Reina De Las Carnitas
Restaurante Monterrey Matthews
Restaurantes Lempira
Restaurantes Morazan
Rodriguez Super Market
Salazar Taxes in Monroe
Salon de belleza Carlos
Salón de belleza new style
Salón Doña Emma
Salon Xtreme Wheels & Tires
Salón y peluquería America
Salsarita's
Sandoval Construction
Sandstone Landscape
Sav/Way Supermarket
Señor Taco
Shelby family restaurant
Six marketing
Smith and Yennis Construction
Supermarkets WOW
Supermercado El Rey
Taco Express in Kanapolis
Tacos el Nevado
Tacos El Regio
Tacos La Pava in Hickory
Tacos Nayarit #1 in Rock Hill
Tacos Nayarit #2 in Indian Land
Taqueria Hidalgo
Taquería La Casita
Taqueria La Unica
Taqueria Los Altos
The Burrito Factory on N. Tryon Street
The Garage Barbershop, Statesville
The Loving Group
Tienda La Romeros
Tienda Los Reyes
Tienda Mexicana La Hidalguense
Tienda Mexicana La Pachuqueña
Tienda mexicana Sarita de la wilkinson
Tiendas Lagos Meat
Tio Chetos in Hickory
Tire Center
Tortilleria Ely
Tortillería Las Lupitas. on N. Tryon St.
Tortilleria Teresita ,Statesville
TRA Automotive and Truck Repair
Tyson Foods en la ciudad de Albertville
Upscale professional cleaning in Huntersville
Villegas Painting
VL Concret
Yvelise Salon
A rally is scheduled today at noon in Marshall Park – it's not clear yet how many people will come, or if they will march.
Comments
comments