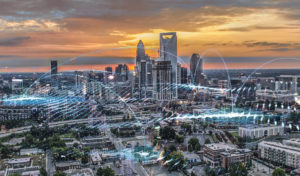 For the past several decades Charlotte has been regarded as truly a banking hub. However, over the last few years, Charlotte has spread its wings and is fast making waves in the technology landscape. The digital marketing sector in Charlotte has been rapidly evolving and adapting itself. It has made phenomenal progress in the last few years and the industry has been expanding by leaps and bounds. As per the spokesperson of a tech giant, in recent years, we have witnessed a dramatic boost in the number of emergent digital marketing hotbeds throughout the United States. It is of pivotal importance on the part of digital marketing entrepreneurs who are constantly focusing on innovating, to keep monitoring precisely what geographic locations would be offering the best and the largest pool of tech and digital marketing experts. Areas witnessing the maximum growth and development are those that have realized that marketing talent is no longer predominantly about creativity. It is very much focused on striking the right balance between tech skills and creativity.
The Charlotte Tech Summit that is slated for March 26, 2020, is emphasizing the need for IT knowledge. At a conference, the organizers said that the Tech Summit's agenda for 2020 has been carefully designed for providing you with the knowledge of the latest trends in the IT sector so that you are equipped with the knowledge that is necessary for making the best decisions for your organization. With Charlotte becoming a tech hotbed, it is important to gain knowledge about the best practices adopted and followed by the leading organizations, the core IT challenges, and novel solutions that are helping to mitigate these issues.
Charlotte is supposed to be the third fastest-growing big city in the U.S.A. and it is North Carolina's largest city. Charlotte is regarded as the 'Millennium hub' and is surely one of the biggest energy and financial centers. The city is the base for several large organizations such as the headquarters of the NFL Carolina Panthers, Bank of America, the NASCAR Hall of Fame, NBA Charlotte Hornets, and it is at the heart of the first gold rush in the United States.
As per https://www.mondo.com, Charlotte is an emerging hotbed of digital marketing startups and digital marketing talent and it promises immense business opportunities. Currently, Charlotte has been acknowledged as one of the leading cities in the United States for specialized digital marketing roles such as Directors of SEM or SEO and SEM or SEO Analysts. Because of the favorable tax rates and low cost of living in Charlotte, businesses and marketing agencies that have come up here find it easier to attract talent both nationwide and locally.
We know that Red Ventures, a digital marketing company based in Charlotte has been valued at 1 billion USD recently. Tech startups are getting established and funded almost every week in Charlotte, the Queen City. We understand that Charlotte-based Map Anything raised as much as $7.3 million and Socialtopias have already raised $4.2 million. Recently, Time Magazine has ranked two locals from Charlotte among the leading 30 most influential individuals on the Internet. As per Vaco, the top tech recruiting agency based in Charlotte, unemployment has dipped to 4.1%, the lowest in 17 years. Hiring continues to go up in these organizations. 
Charlotte is perfect in terms of size. Moreover, according to hybridtraffic.net it is safe and clean having unique neighborhoods and incredibly thriving communities meant for all newcomers as per Jonah Dimeo who is the Senior Director, in Technology Talent Solutions. He further stated that Application Development, Cyber Security, and Analytics are the fastest growing and these tech positions are in great demand.   
Cutting-edge forms of marketing are emerging in the market scenario- social media marketing, email, search with SEO, SMM, PPC services or digital marketing. Digital advertising would necessitate a strategy that would be effective and attracts businesses and positive ROI. Therefore, today employing the services of a competent in-house digital marketing squad or even you could outsource digital marketing expertise. Today you could get in touch with a Charlotte SEO Company whenever you want. They are just a call away!
Several technology conferences are coming up in Charlotte including the Technology leadership conference where business and technology are supposed to be converging. Collaboration, networking, and knowledge transfer are the chief goals of these tech conferences that are mainly meant for the IT community in and around Charlotte.
Over the years, the city of Charlotte has aimed to urge tech entrepreneurs to bring their ideas to fruition. These concerted efforts have led to the creation of an incredible atmosphere that attracts and rewards energy and talent and fosters the growth of companies that create the solutions for a better future. As the tech bubble outgrows Silicon Valley, the likes of Charlotte become tremendously attractive for tech educators, investors, human resources and corporations.
Comments
comments