Charlotte was just ranked as America's 'Top Tech Town' by a leading IT association.
ComTIA identified Charlotte, NC as the nation's leader in tech jobs due to our quality of life for tech workers, salaries, job availability, job growth and cost of living. North Carolina as a whole dominated the list, with Raleigh earning the number two spot and Durham-Chapel Hill landing at number 15.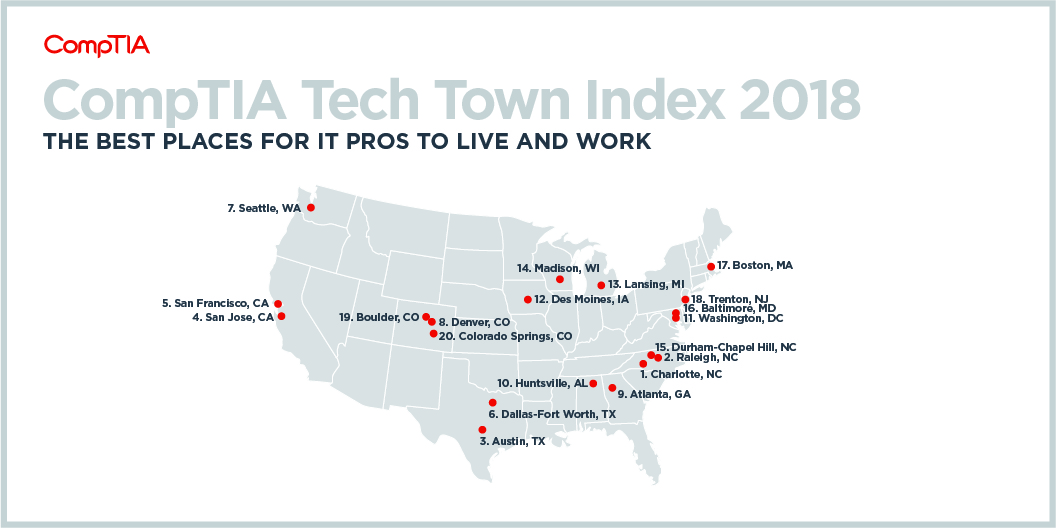 ComTIA's 2018 Tech Town Index ranking used job data posted over a 12-month period (August 2017-July 2018) focusing on 20 metropolitan areas with populations greater than 250,000, then ranked the cities based on cost of living, number of open IT positions, and projected job growth over the next 12 months and the next 5 years.
In describing why Charlotte was ranked as the #1 in America, the report noted that, "more than 44,000 IT jobs were posted in the city over the last year, and with financial heavy hitters like Bank of America, Wells Fargo and Ally Financial hiring IT workers at all levels, that number is projected to grow 11 percent over the next 5 years. Additionally, IT pros in Charlotte will find a healthy median salary of $87,755 and a cost of living that is 1.3 percent lower than the national average."
For decades Charlotte has been known only as a banking hub…but as more highly-educated millennials move here and local startups grow, our identity is slowly morphing into the silicon valley of the east.
Red Ventures, a Charlotte-based digital marketing company was recently valued at $1 billion, and new tech startups are being formed and funded almost weekly here in the Queen city (Charlotte-based Socialtopias raised $4.2 million, and Map Anything raised $7.3 million). Time Magazine even recently ranked two local Charlotteans among the top 30 most influential people on the internet.
"As technology permeates every corner of our personal and professional lives, employment opportunities are expanding across the nation and fueling job growth in regions not traditionally thought of as tech hubs," said Nancy Hammervik, executive vice president, industry relations, CompTIA.
What do you think about Charlotte's rapidly growing tech sector? 
Comments
comments