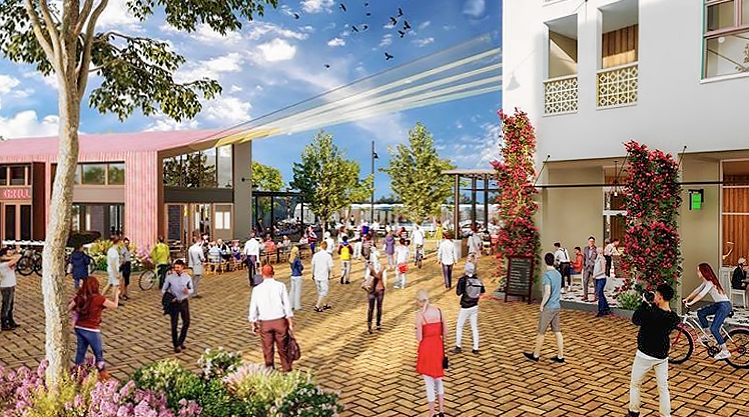 Charlotte is about to build its first official "car-free community", in line with the city's vision to transform our city into a network of '10-Minute Neighborhoods'.
Zoning for the new mixed-income apartment community has been approved by the Charlotte City Council. The new community will require all residents to sign an agreement that they do not own a car and will not buy a car for the duration of their residency at the community.
The 0.7-acre site on the corner of on State Street and Katonah Avenue (across the street from Blue Blaze Brewing) will include a 5-story apartment building with 104 units and only 6 parking spaces.
Grubb Properties rezoning petition for the community specifically includes the following provisions:
"VII. Alternative Transportation Commitments:
a. Bicycle:
i. Each Unit will be given a minimum of one (1) bike rack space per bedroom in climate-controlled area;
ii. The community bicycle center will have a minimum of 116 bicycle rack spaces; and
iii. Optional additional ceiling-mounted rack in individual units, if desired.
b. Ride Share:
i. A minimum of two (2) ride-share (e.g., Uber, Lyft) parking and loading space will be provided; and
ii. A minimum of three (3) visitor parking spaces will be provided (one ADA). c. Other Multi-modal amenities : i. A minimum of seven (7) spaces to be reserved for cargo/e-bike or other similar styled multi-modal transportation aids; and
ii. A minimum of one (1) electronic multi-modal transportation aid charging station, as applicable based on current technology.
VIII. Amenities Intended to Encourage Car-Free Lifestyle:
a. Bicycle maintenance program ("Spoke Easy Program") available to residents. b.Oversized refrigeration and package system lockers of multiple sizes and dimensions of approximately 60 lockers, to allow for grocery and food delivery."
The petition also included a clause that lays out how Grubb Properties plans on making at least half of the units "affordable housing":
"The Petitioner shall voluntarily provide a workforce housing program to ensure that the proposed residential units are reasonably priced for persons earning less than the average median income for the area. Petitioner shall ensure that 50% of the residential units, for
a period not less than fifteen (15) years, maintains monthly rents that are, on average, affordable for persons earning not more than 80% of the area median income."
Charlotte Stories is continually partnering with the best real estate agents in every part of the Charlotte region.
If you're thinking about moving in or around Charlotte, let us connect you with a top agent in your area by filling out the form below:
Comments
comments