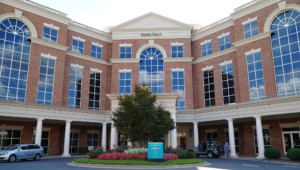 North Carolina's largest healthcare network, Carolinas HealthCare System, just announced that it's changing its name to Atrium Health after 75 years of growth from a single hospital in Charlotte to sprawling web of hospitals throughout the South East.
"It's quite remarkable to think back to our humble beginnings in 1940, when a group of ambitious, young clinicians answered the call to serve everyone and opened our doors as Charlotte Memorial Hospital," Atrium Health President and CEO Gene Woods said in a statement. "Now, nearly 80 years later, our doors remain open, and we've helped our community thrive."
The new name will put less branding restrictions on geographical expansion, given that the Carolinas HealthCare System already has hospitals throughout North Carolina, as well as Charleston, SC and Elbert, GA.
While the timing of this name change is only a few months after CHS announced that it will be joining forces with UNC Health Care, it is curiously unrelated.
"Carolinas HealthCare System's name change announcement today is unrelated to UNC Health Care's proposed partnership with them," their statement noted. "The name of the proposed joint operating company remains under discussion and no decision has been made."
We reported on the historic partnership this past September – what will soon become one of the largest healthcare networks in America. Officials for CHS and UNC say their partnership will not technically be a merger because they do not intend to pool their assets. Some experts have called similar mergers of research institutes with hospital chains 'virtual-mergers' since the primary goal is a shared pool of knowledge, not finances or profit.
When the partnership is complete, Atrium and UNC Health Care will have access to a combined 52 hospitals and 95,000 employees;
| | |
| --- | --- |
| ATRIUM HEALTH CARE | UNC HEALTH CARE |
| Number of hospitals: 40 | Number of hospitals: 12 |
| 2016 revenue: $9.8 billion | 2016 revenue: $3.6 billion |
| 2016 employees: 65,000 | 2016 employees: 30,000 |
| Headquarters: Charlotte | Headquarters: Chapel Hill |
What do you think about the name change?
Comments
comments