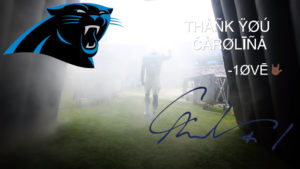 Just once day after news broke that Panthers' MVP QB Cam Newton signed a contract with the New England Patriots for $7.5 Million, Newton released his official 'farewell Carolina' video that's already been viewed over 350,000 times.
In the video, he says; "I'm angry, I feel let down, but at the same time, I'm not bitter…at the end of the day, the marathon continues. I'm blessed, I'm honored, and I have no idea whats the next steps, but with God's grace, I know that there will be a next step…" Newton also adds that "I never once wanted to leave Carolina".
The video then goes on to show some of Cam's awards and contributions on and off the field here in Charlotte and ends with a logo of the New England Patriots.
You can watch the complete video here:
What do you think about the decision to cut Cam?
Comments
comments