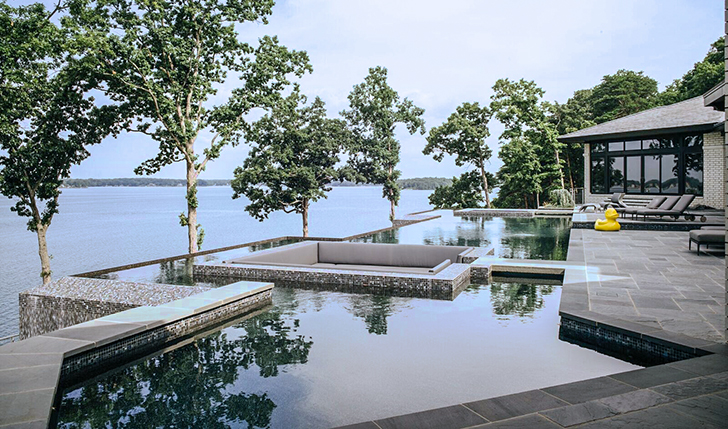 It's time you knew you deserve it. There cannot be a better retreat, a better place to relax. 
Iowa— a state with 34 natural lakes and numerous others, man-made. The deepest and some of the most spectacular of them is called the Iowa Great Lakes which surround the east, south, and west edges of the town of Okoboji.
Owning a vacation home overlooking a lake has always been a dream for so many peace-seeking persons and families. And Iowa appears to be the best place to get a home like that. There are several waterfront real estates with cozy and dazzling houses around most of the lakes built only for vacation and recreation.
Tips Before you Buy a Vacation Home
Before you dive into action you need to consider the following tips listed here just to make you watchful:
Stay Within Your Budget
With the vast ocean of information buzzing around the internet, there is no reason for you to be in the dark without doing some 'homework' with your chosen area.
You need to calculate what your estimated mortgage payment would be if you are not paying cash. When it comes to the mortgage payment you want to be smart and realistic about what you can shell out for a down payment, closing cost, and the continuing monthly payment. 
Additional Cost
These costs include property insurance, property taxes, condo or homeowners fee, additional maintenance (lawn care, power washing the property, painting and cleaning gutters, etc.), some one-time expenses like the breakage of your dishwasher or air conditioner, some annual carrier and utility costs like phone and internet.
Remember, maintenance runs about 1% per year of the purchase price.
Condo or Single Family Residence
Well, there are pros and cons to each of the options. You sit down with a piece of paper and compare the pros and cons of each of them. There shouldn't be much problem deciding which one is suitable for you. One of the main considerations for you will be to decide, whether it is going to be a vacation home that you will sell someday or it will be a retirement home for you.
Rental Restrictions
Whether it is a condominium or a single-family home, all communities are going to have rules. Rules that pertain to renting the property out. Most of them are going to have a minimum amount of time on the lease like 30 days, 60 days, 90 days, or even a year.
Sometimes there are rules like a waiting period before you can rent it out. Some communities even have a three-year waiting period.
There are many other rules like that which you need to study carefully before you buy your property.
Property Management
Most people buy properties which they will not use round the year and therefore leave the responsibility of caretaking to a property manager. He can charge from 8% to 10% of the rent to handle advertising the property, writing the leases, collecting the rent, or paying the taxes. 
Location
We will be discussing this part shortly. But for now, you need to consider what you are going to do most of the time when you are not at home. If you want to play golf there are some good places like Rice Lake Golf and Country Club or Lakeview Country Club. If you are fond of walking along the lakeside you have more options.  
Here are some of the best places to search for:
The Great Lakes of Iowa, around Okoboji
This is one of the most attractive and most visited vacation resorts in Iowa. Surrounded by the great lakes from three sides the town of Okoboji has got an extraordinary identity. The whole shoreline is teeming with hundreds of vacation spots, leisure homes, and parks. But the western side is fabulous. Archaeologists confirmed that more than 14000 years ago a glacier made its snaking way through this place and gradually created the lakes.
The west lake is the deepest among all the lakes of Iowa, going down a maximum depth of 136 feet and making it the 3rd most visited lake in the entire USA.
Clear Lake
Lying 30 miles south of the Minnesota border, the lakeside town and the lake itself, named the Clear Lake, are fantastic places to visit. You can visit the legendary surf ballroom and museum, see the plane crash site, eat at Starboard Market, enjoy endless watersports on Clear Lake, do fishing, visit the Central Gardens of North Iowa, fly a kite on the frozen lake in the annually held Wind Kite festival, hop on a bicycle or cruise the lake on the classic paddlewheel boat in the first weekend of August. There are so many things to do here in the lake and the town. 
Also, the waterfront homes and condominiums are quite reasonable in price and style. The average condos are around $2,600,000 and single-family homes are around $6,000,000— much more 'within the reach' for an average vacation lover. The ones closely overlooking the lake are a bit high in price and the more you push eastward or northward inside the town the less the price is.
For more information, you can visit the informative site featuring Clear Lake homes for sale. 
Being a less visited lake than the west lake Okoboji, you can have a comparatively peaceful and tranquil life here.
Lake Panorama
Stretching from northeast to southwest of this lake, when viewed by zooming in, gets a spectacular look of a legendary dragon. And the views around the whole lake are simply awesome. It is an hour away from Des Moines. This is the largest private lake in the state and all along its shores, there are more than a thousand condos and single-family homes. 
Lake panorama resort is a magnificent place to visit and a great get-away destination. 
The simple and smooth life around the lake makes it a unique place to spend your vacation time.
There are so many other places to visit that you can decide for yourself. But these three places have got some extraordinary characteristics that make them stand out from others.
Comments
comments