One of the the co-owners of Brooks' Sandwich House, 61-year-old Scott Allen Brooks, was shot and killed at about 4:45 am this morning, according to police.
Police posted on their Twitter account about the homicide investigation this morning on the 2700 block of N. Brevard Street.
📞 @CLTCrimeStopper to leave anonymous information. Information leading to an arrest could result in a reward of up to $5,000. pic.twitter.com/31AVynpjF7

— CMPD News (@CMPD) December 9, 2019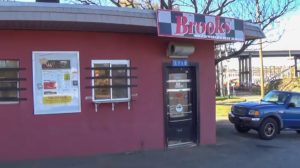 According to WBTV, Scott Allen Brooks had just arrived at Brooks' to open the restaurant when he was attacked by the shooter.
This morning's deadly attack marks Charlotte's 103rd homicide in 2019.
There is now a $5,000 reward being offered by police for any information leading to the arrest of the suspect. If you have any information about this morning's attack, please call 704-432-8477.
I had the privilege of briefly interviewing Scott Brooks a few years ago. He told me he began running the small sandwich house with his brother David since 1973;
UPDATE 12/9/2019 5:00pm: 
The Brooks family has just set up a memorial fund for Scott Brooks on GoFundMe.
You can read more or donate to the campaign here.
Comments
comments