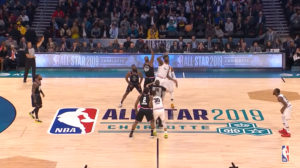 Home of the Hornets, Panthers, Hurricanes, Charlotte FC, and copious stock car teams, North Carolina lives and breathes sports. As such, everyone in the state should have the biggest sports event of the year penciled in on their calendars alongside, or perhaps even ahead of, birthdays and vacation dates.
A new prospect has arisen across the US in recent years to take sports fandom to another level, though: betting. Sportsbooks have opened up across the country, with those found online and not limited to print copy or a shop capacity offering a massive range of odds and markets that go deeper than anything seen before.
Here, we're looking at the biggest dates that you should add to your sports calendar as well as how to bet on each and every one of these major events in 2023.
From NC to Louisiana: Betting on the biggest sports events of 2023
The first thing to know as a North Carolina resident is that betting in each US state is very different. In some places, a full slate of betting opportunities is available online. This is the case in Bayou State, where you can even grab some hefty Louisiana sports betting promos for joining any of the regulated and competitive platforms. 
Of course, that's over in a state with incredibly low state government dependency – nearly as low as that of South Carolina – while North Carolina ranks 37th in that same table. So, things need to be different in the Tar Heel State, even if the sports fandom here is arguably stronger and more varied than that of Louisiana. In any case, there are physical betting shops in NC, but if the opportunity arises, deeper markets with more competitive odds can be found online in some neighboring states. In each, you'll be able to back outcomes for the biggest events of 2023.
Dates to circle for 2023 in sports
Into May, and we have the nation's most prestigious horse racing meet: the Kentucky Derby. Taking place at the Churchill Downs on May 6, it's been a staple of American betting for decades, and will only prove to be a highly-anticipated event again this year. On May 28, race fans will be treated to the Indi 500 up in Indianapolis.
First up are the 2023 NBA Finals. Taking place from June 1 to, potentially, June 18, it'll be a showcase of the biggest stars in basketball, but NC won't be represented. For the seventh season in a row, the Charlotte Hornets failed to make it to the postseason, which marks the longest active streak in the league. Perhaps a little additional luck in the NBA Draft Lottery will lead to a brighter future for Charlotte.
Just a couple of days later, on June 8, the NHL's Stanley Cup Finals get underway with more hope for the residents of North Carolina. Sitting pretty as the joint-third favorites at +1000, the Hurricanes entered the postseason very much in the mix and got underway with a 3-1 series lead. The Carolina Club has dominated again this season and landed a third consecutive division title.
While we do have Charlotte FC competing in the MLS, perhaps the biggest soccer event for NC residents in 2023 will be the CONCACAF Gold Cup, for which, the Bank of America Stadium is a host. The 74,867-seat stadium will host USA vs. Nicaragua and Honduras vs. Haiti on July 2.
Finally, and ready to witness the beginning of the full rebuild, the NFL will commence on September 7. The NFL will usher in the biggest draw for bettors across the US. For the Panthers, this looks set to be a hit-and-miss season of developing as a team with a lot of new faces and new direction, but they are at +325 to win the NFC South – good for second-favorites.
With so much excitement around NC teams this year, a whole host of residents are looking to place a wager or two in 2023.
Comments
comments