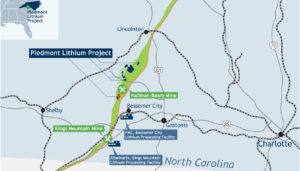 Yesterday, the Biden Administration announced the release of an unprecedented amount for new EV battery production. A total of $2.8 billion in grants will be given out to a select number of domestic electric battery producers and lithium miners in an attempt to lessen our dependence on China for EV parts and materials. Almost $1 billion of the new grants will be going to North Carolina's Albemarle Corp and Piedmont Lithium for the mining and refinement of the massive lithium deposits in King's Mountain.
"By undercutting U.S. manufacturers with their unfair subsidies and trade practices, China seized a significant portion of the market," President Biden noted yesterday in announcing the awards. "Today we're stepping up… to take it back, not all of it, but bold goals."
Happening Now: President Biden delivers remarks on the Bipartisan Infrastructure Law and America's manufacturing boom. https://t.co/27eEIrt1C1

— The White House (@WhiteHouse) October 19, 2022
The grant package will also be given out to a variety of companies along the EV battery supply chain in 11 other states, including; $316.2 million to Ascend Elements to build a battery parts plant, $50 million to Lilac Solutions direct lithium extraction technologies, $75 million to Cirba Solutions for an EV battery recycling plant, and $219.8 million to Syrah Technologies for a graphite processing plant in Louisiana.
What do you think about the new grants? 
Comments
comments