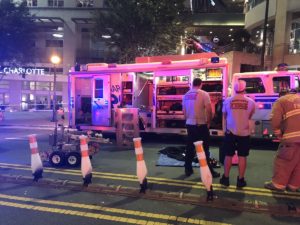 Another shooting death has just occurred early this morning in Uptown Charlotte's Epicenter. This comes just one month after DisposeRX's CEO John Holaday died after being shot in the Epicenter.
According to CMPD, two individuals were injured in the shooting, with one of the injuries proving to be fatal;
The SBI is conducting a CMPD officer involved shooting incident which occurred this morning in the area of S. College and E. Trade Streets. Two subjects were injured during the incident, one fatally.

— CMPD News (@CMPD) November 15, 2019
The second subject was transported to the hospital with non-life threatening injuries. No reported officer injuries. Thoughts and prayers for all involved.

Traffic will be impacted for several hours in the uptown area.

— CMPD News (@CMPD) November 15, 2019
Several witnesses told WSOC's Gina Esposito that they saw 2 men shooting at each-other before police got involved;
#BreakingUpdate: CMPD confirms at least 1 officer fired their weapon outside the Epicenter this morning.

SBI is investigating.

Several witnesses told me they saw two men shooting at each prior to police getting involved. @wsoctv pic.twitter.com/KbabAPaNSF

— Gina Esposito (@GinaWSOC9) November 15, 2019
This is an ongoing investigation.
We will updated this article as more information comes in.
Comments
comments