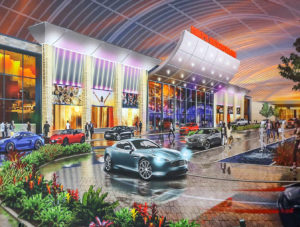 Over the past few years, North Carolina has continually grown into a significant player in the United States' local gaming industry. From browser to console and mobile developments, the ninth-most populous state has taken its market contributions from strength to strength. Charlotte, in particular, has begun to follow suit with an increased role in both game creation and the competitive gaming sector.
In many ways, this new-found admiration for the gaming industry has provided local developers with a like-minded community in which to progress the city's digital status. Because of that, there's scope for Charlotte's video game industry to reach new, unprecedented heights throughout the next decade and beyond. So, let's take a look at the forward-thinking intricacies that are spearheading the city's gaming revolution.
Embracing Flourishing Digital Markets 
According to figures from Statista, the global eSports market is forecast to reach a market worth of approximately $1.6 billion by 2023. Moreover, further data showcases that 13 percent of US-based viewers watched gaming live streams as of July 2019. Because of the lucrative nature of the industry and the potential to grow its audience base, it's clear to see why Charlotte has recently targeted the eSports sector.
It's been reported by WSOCTV that the city's leading figures are hoping to turn the location into a central hub for professional eSports. Given the area's pre-existing status within the sector, this would be a progressive step. This is evident from the rise of Charlotte Phoenix, a professional eSports team competing across Call of Duty, League of Legends, Rocket League, and more. EGamersWorld tells us that the side, founded in 2019, have won 48 percent of their matches in the last year. Interestingly, Charlotte Phoenix are part of CLT Esports, which is a city-based organization focused on creating competitive gaming tournaments.
Aside from eSports progression and the planned construction of a state-of-the-art competitive gaming center, there's potential for North Carolina to broaden its game-oriented offerings through online casinos. As the city now allows for legal sports betting, digital variants of traditional casino games appear to be the next step in this market. An incentivized approach could be adopted to ensure user expansion, similar to the casino bonuses collated at Casinos.co.za. With free-spin, match, and no-deposit offers, for example, prospective users can immerse themselves in the latest live games and slots through various loyalty and reward schemes. It wouldn't be surprising to see similar bonuses used to drive player and spectator engagement as the scene in North Carolina expands.
A New-Found Focus on Game Development that Stems from Early Successes 
Similarly to both eSports and online betting, Charlotte's game development operations have progressed significantly throughout the 21st century. According to GoodFirm, Zco Corporation is an on-the-rise software organization that specializes in mobile creations, including smartphone games. Through the use of HTML5 and Unity, the 31-year-old company has developed a wide array of titles, including Coop Squad. Much like the ever-popular Pokemon Go, the title adopts an augmented reality approach that sees players collect various character cards.  
<iframe width="560″ height="315″ src="https://www.youtube.com/embed/HzzQwBfeL5k" frameborder="0″ allow="accelerometer; autoplay; clipboard-write; encrypted-media; gyroscope; picture-in-picture" allowfullscreen></iframe>
Across North Carolina, there is a varied focus across the diverse gaming market's many genres. For example, Atomic Games don't target the mobile sector like Zco Corporation. Instead, the business founded in 1989 centers its attention on producing strategic combat games for both consoles and PCs. Following the release of their first game, V for Victory, the title claimed the Computer Games Strategy Plus' Game of the Year award in 1992, which showcases the state's successful history in the video game sector.
Signs of Undeniable Potential 
Ultimately, few can argue that Charlotte's status within the global gaming industry isn't continually growing following forward-thinking local steps. While numerous possibilities could further enhance the city's game-related offerings, its focus on the eSports sector could be the catalyst in putting Charlotte on the map from a gaming standpoint.
Comments
comments