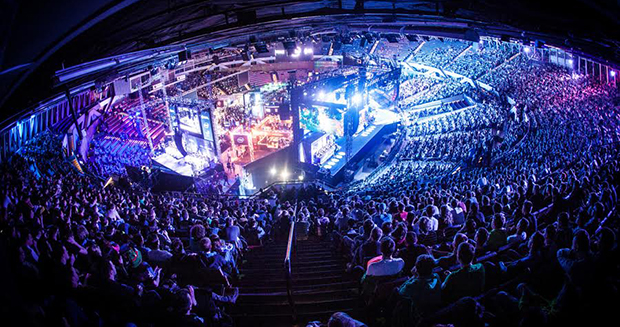 Charlotte-based venture capitol firm SierraMaya360 just signed a 7-figure deal with top ESL Team EnVyUs, and are now working to move their headquarters to Charlotte and build the world's largest eSports training facility right here in the Queen City.
ESports is the fastest growing spectator sport in the world – it's now projected to hit 1 billion viewers by the end of 2016 (1/7th of the world's population). "The numbers are ridiculous, it's going to be the 4th most watched sport in the world by the end of the year," commented Jeff Brokaw, an associate with SierraMaya360.
Most of the eSports teams are now located in LA or South Korea. Team EnVyUs' new Charlotte headquarters and training facility will be the first major eSports facility on the East Coast and the biggest and most high-tech facility in the world. "Currently, the largest facility is in LA at about 15,000 square feet – ours will be way bigger and will feature far more high-tech features – think of it like the Silicon Valley of eSports." Jeff commented.
He also told us that once the training facility is built, it will draw in top eSports players from around the world, and would allow for a major ESL tournament to come to Charlotte on an annual basis. "We've already had talks with the Time Warner Cable Arena and we're confident we could sell it out."
The ESL currently holds tournaments all over the world, ranging in size from 20,000-100,000 people, with ticket prices ranging from $45 to well over $4,000 for some VIP seats. The tournaments usually last 3 days and bring in millions of dollars in revenue for the host city – similar to the CIAA Tournament or NASCAR's Speed Week.
SierraMaya360 and Team EnVyUs are still working out the final details with Charlotte's Chamber of Commerce, but they hope to have the new facility built and open by next February.
This recent YouTube interview gives some more insight into Shaquille O'Neil and Alex Rodriguez's recent eSports investment;
Team EnVyUs is currently training for a major tournament that will be aired next month with a total prize of $1.5 million.
The team's 40 players, along with their coaches and support staff will be moving into a temporary Charlotte headquarters next month while they wait for their new eSports complex to be approved.
Jeff told us that there's still a chance that Charlotte could be out-bid by another city, as Team EnVyUs has been in talks with Dallas, ATL, Cleveland, Detroit, Minneapolis, LA, Vegas, and Greensboro.
If you think the world's largest eSports facility should be built in Charlotte – please share;
Comments
comments