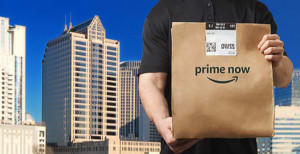 After last-year's addition of same-day delivery for Amazon Prime members in Charlotte, the company is now rolling out an even faster option – 'Amazon Now' – your order delivered in under 2 hours.
Until recently, Amazon offered free one-day shipping to Charlotte residents who placed a minimum order of $20. Now, Prime members in Charlotte can get free two-hour delivery on orders of $20 or more, and if you really need your new fidget-spinner immediately, they're even adding a one-hour delivery service for just $7.99 extra.
"We keep making Prime better, and as our operational capabilities grow, we will continue to invent and expand delivery options that customers love," commented Greg Greeley, the vice president of Amazon Prime.
Amazon has been rapidly growing their presence Charlotte region over the past 10 years. They've added over 2 dozen 'Amazon Locker' locations around our region, build two massive distribution facilities, and recently announced a new hiring spree at their Concord facility.
Amazon also recently purchased the entire Whole Foods grocery chain for $13.7 billion. With 3 Whole Foods here in the Charlotte region, this could soon mean instant grocery delivery options for Charlotte residents.
If you want to test out Amazon's new 2-hour deliver service, check out our list of the Top 10 Products Charlotte Residents Are Buying On Amazon For Under $5.
What do you think Amazon will do next?
Comments
comments