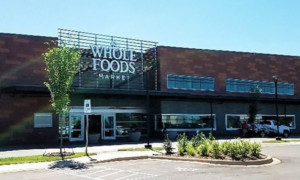 Amazon.com has just announced a deal to purchase of high-end grocer chain Whole Foods for $13.7 billion (paying $42 per share for the publically traded company – almost $9 above yesterday's closing price of $33.06 per share).
Amazon CEO Jeff Bezos commented that, "Millions of people love Whole Foods Market because they offer the best natural and organic foods, and they make it fun to eat healthy. Whole Foods Market has been satisfying, delighting and nourishing customers for nearly four decades — they're doing an amazing job and we want that to continue."
Whole Food's CEO, John Mackey will remain as the head of the company and their headquarters will stay in Austin, TX.
This decision to buy the specialty big-box grocer is in step with Amazon's recent decisions to expand their home delivery grocery service, AmazonFresh, and their online grocery store, Prime Pantry. Have one of the fastest growing organic grocers in their arsenal will now allow them to link of their delivery and online options with in-person decision making.
What are your thoughts on Amazon buying Whole Foods?
Do you think Amazon is becoming too big? 
Comments
comments