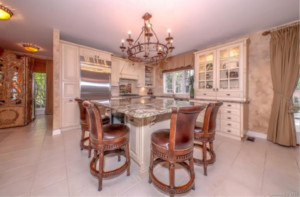 Home Sweet Home! No matter what the size of your home is, it is the only place in the world where you can be most comfortable and relaxed. You may be aware of every bit of your home; but are you familiarized with its value? No matter how clean or well-maintained you keep your home, it still demands renovation after a certain time. And if you already have realized it and are looking to renovate your home to boost its value, but not sure about the best improvements to invest, then note that remodeling the kitchen can do wonders to your property. 
Yes, you heard it right, you don't have to spend hundreds of thousand dollars investing in major home improvement projects that cost you an arm and a leg. Instead of spending altogether on a big home remodeling project, you can simply put your hard-earned money in kitchen remodeling. A new kitchen can be a treat to your eyes as well your house value that can deliver a great return on investment. 
Remodeling a kitchen can enhance a home resale value to a good extent, based on the type of improvement and current rates in the housing market. 
Ways the Kitchen Renovations Fare
Kitchen remodeling may not be just a matter of a few dollars, they may be expensive (not as expensive as an overall home improvement), but these projects offer a strong cost-to-value percentage to the homeowners. Many reports have also suggested that major kitchen renovations incline fare better than bathroom renovation in terms of boosting the home value. 
A new kitchen can be a treat to your eyes as well as your house value that can deliver a great return on investment. Now would also be the perfect time to take advantage of your existing home warranty plan to take care of any repairs that might be covered in the kitchen.
Reports suggested that kitchen modelling returns about 69% of its costs, whereas bathroom remodeling offers 57.2% of it. Moreover, The National Association of Realtors also suggests that a well-designed and rational kitchen modelling is the best interior remodeling project that adds up to the house value. 
The Role of Housing Market 
The housing market strength also plays a vital role in improving your house resale value with a remodeled kitchen. A healthy and strong housing market will deliver a better return on its initial costs, whereas, an anemic housing market may also take its toll on the resale value of the home 
Small Renovations in Kitchen 
If you are on a tight budget and still want an improved look of your kitchen, start with small kitchen remodeling first. Minor remodeling includes installation of new drawer fronts, new cabinet, countertops and appliances. You may not realize but installing new kitchen cabinets leave a tremendous effect on the overall appearance, that too with limited improvements. Wondering where to buy high-quality cabinets that perfectly match the ambiance of your kitchen? You can visit wholesalecabinets.us to find a perfect fit. Just replacing those old and greasy kitchen cabinets adds an immediate effect on your house value. 
Such minor remodeling generally do not include plumbing procedures and there are limited flooring improvements involved. Moreover, you can repaint the walls of the kitchen, and get the professional kitchen tile cleaning services. 
Many Other Benefits 
It is usually unlikely that homeowners will be able to recover the actual profits after major kitchen modelling. But there are benefits in other ways. Greatly done home or kitchen improvement projects can usually help in selling the house quickly. If you also are looking to improve the resale value of your home, you are advised to invest in either a full home improvement project or kitchen remodeling. 
Simple Ways to Lower The Remodeling Costs and Enhance Home Value. 
If you are on a budget and looking for ways to cut down on your kitchen renovation costs, then we have caught you there too. 
As mentioned above, you can remodel the kitchen on a budget, just with small upgrades in the kitchen that immediately bring a positive impact on the onlookers. You can simply opt to change the wall colors, replace those tired-looking cabinets, get kitchen tiles cleaned professionally to bring a breeze of freshness. 
You can hire a professional tile and grout cleaning service provider like Stanley Steemer to breathe a new life to your kitchen tiles. 
Stick Your Kitchen's Theme 
Keep the theme of the kitchen general and in compliance with the feel of your home. When you are on a budget, maintain a distance from the deluxe items. To get a fair idea of the items that you want to include, you can have a look at other homes in your neighborhood. Giving a uniform look and design to your kitchen and home may attract the buyer that will help keep the home memorable. 
Switch to stainless steel 
With age, the appliance needs replacement. Using stainless steel in your kitchen will give a modern and sleek look to your kitchen. This is one of the worthiest upgrades you can make in the kitchen since stainless steel steals the attention of the onlooker. 
Go Traditional 
You can also go all traditional while choosing the countertop or cabinets. This is a unique and one of the most certain ways to attract potential buyers. You can go with the classical wooden theme, wooden cabinets coupled with stoned floors and countertops. This is a conventional yet high-value combination that is sure to leave an impression on the onlookers. 
Incorporate energy-efficient appliances
In case you can expand your budget a little, then this is one of the foolproof ways to increase the value of your kitchen. Appliances are one of the most important things that buyers will be on the outlook. Since, the buyers are also looking for ways to reduce their cost. And the incorporation of energy-efficient appliances in the kitchen will be depicted as a cost-efficient house in the eyes of buyers. 
In many homes, kitchens are considered as the main points of the whole house. Be it a usual family gathering or a small hosting event like a birthday party, kitchens are always a part of it. Hence, it is important to keep the kitchen well-maintained. You never know one of your guests may become your potential buyer. 
Comments
comments