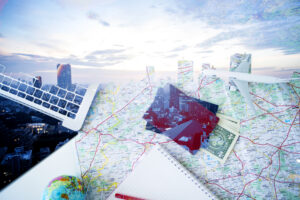 There's a reason why most people invest in real estate overseas compared to other investment opportunities. For one, it holds a promise of profits and revenues, especially when you've landed an ideal location. Due to the ultimate need for residents and businesses to occupy space for their homes and business, real estate always comes with stable demand. This makes it a safer industry for people to engage in without incurring significant risks as other investments do.
However, although it sounds appealing to know about the financial returns, buying real estate in other countries needs to be thoroughly studied because you'll be locked into this purchase in the long term. So, if you're trying to enter the real estate business overseas, you must take into account the following variables: 
1. Know Your Purpose 
If you buy a property overseas, knowing your purpose is probably your most important consideration as it'll directly impact everything. Why do you want to purchase real estate in a specific city, town, or country? For example, if you're going to buy new homes Luton has to offer, you should know your purpose. Are you buying it as a business or are you going to move in anytime soon? You may have to set short-term and long-term goals on what to achieve and think of why you want to acquire property there.
In the case of an investment property purchase, all financial decisions should be based on the expected return. However, if you plan to relocate to the home you bought recently, you need to think about standard factors such as the neighborhood and local amenities. 
2. Approach Professionals 
Nothing beats the advantages of professionals working beside you on this investment journey. After all, it requires a significant investment and viable processes. 
You should first hire a local lawyer to deal with the legal aspects of buying properties overseas. Additionally, you should get in touch with local realtors so you can understand the market, stay organized, and find the best deal. They can also guide you on what factors to consider when you decide to update your overseas home. 
With these two professionals, you'll make your overseas real estate purchase seem more manageable.
3. Be Aware Of The Regulations And Procedures 
Regulations and rules differ from market to market. Overseas property investments are subject to different procedures and regulations, and these may change periodically. Therefore, it's imperative to take the time to research local law and regulations, as well as the professional property market in your preferred location. 
Knowing these legal aspects and procedures will help you understand the actual status of your investment.
4. Consider Funding  
After you've understood your purpose, you're now more motivated to invest in a property outside of your home country. Now, the next crucial part is its funding. 
You need to secure finance since international laws are involved. Whatever funding method you're going for, whether you pay in cash or through loans, seek advice from your lawyer regarding the country's legal regulations. Ensure that you can safeguard your down payment or safety deposits.
5. Be Aware Of The Tax Implications 
Investments in foreign real estate are also subject to tax implications. This will depend on the country you're buying the property from, so spend some time studying the rules regarding their taxes. 
Keep in mind that if you lease or rent the property, you'll receive taxable passive income on it. You should consult your accountant before purchasing a property, having it rent out, or even selling it in the future.
6. Prepare On How The Property Will Be Managed 
Property management is required for most foreign investments. Thus, to manage your investment when you're not there, you'll need a third-party management company. 
Many third-party property management firms can help you with this. You won't have to find a local company, too, since even your home country might provide overseas property management services. The key is to partner with a firm that can manage your property well.
7. Take The Developer Into Account 
Buying a property that's still under construction entails higher risks than purchase one that's already finished. Suppose the project runs into several difficulties, and you won't be able to physically or personally visit or inspect the place. Hence, it's best to find a credible developer when choosing to invest in properties overseas.
8. Have A Contingency Plan 
Even well-conceived plans can, at times, go awry no matter where you are in the process of purchasing property overseas. This is why preparing a contingency plan seems to be a bright idea, just in case something terrible happens. Thus, any potential inconveniences resulting from a possible financial loss will be avoided. 
Conclusion 
There's no need to be intimidated when buying property overseas. Staying up to date with the laws and regulations in the country where you're investing can ease your stress. Moreover, taking into account the considerations mentioned above will help you decide which property is the best for your investment plans.
Comments
comments