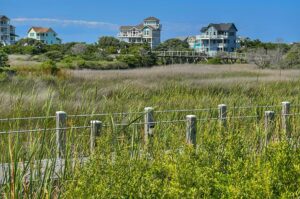 Housing prices in North Carolina's most populous city 
increased by as much as 16.1%
 in the last year. Inventory is low driving prices up and making it more difficult to snag a property. For those who could not get their hands on a move-in ready property, renovation is a viable option. Current homeowners whose dwellings are aging can also benefit from remodeling 
to update the condition
 of a structure. Here's what you should consider when you revamp a house.
Set a Renovation Budget
Creating a budget is vital in establishing the scope of what you can and cannot do especially if money is tight. Once a budget is determined, you can begin to plan your renovations. One of the most popular remodeling projects is to spruce up bathrooms with 31% of respondents saying that they will do this update this year according to the 2021 Axiom Homefront Insights Survey. The kitchen is also another favored remodelling initiative with 27% of survey participants planning to refurbish their kitchens.
However, both kitchen and bathroom projects are some of the most complex tasks that homeowners will undertake. They require a good design and quality equipment and fittings for a great result. For example, plumbing is a primary factor in these renovation projects. According to experienced 
plumbers in Greensboro NC
, it is important that pipes, drains, and fixtures are properly installed. In addition, qualified professionals can also identify plumbing issues such as 
leaks or slow draining sinks
. Hence, establishing a budget for renovation projects provides an indication of how much you can expect to spend. Whether you opt for luxurious fittings or value for money fixtures, a financial plan is instrumental in realizing your remodeling project.
Make a Detailed Plan
Now that you know how much you can afford to update your abode, formulate a detailed plan that will include thorough research of the materials that you will need, designs, and contractors. Get quotations from different suppliers and providers to see which one fits your needs and pockets. Make a side-by-side comparison on the benefits and advantages of using certain supplies or hiring professionals. While money is evidently a limitation, it is not also a good idea to sacrifice the quality of work as you might end up re-doing the entire thing.
Renovation also offers an opportune moment to commission a detailed survey of your home. If you have already done one before closing, you might already know the condition of your house. However, if the survey was done a long time ago, it would be helpful to pay for a new inspection to see if there are structural issues in your property. Sagging floors, cracked walls, crumbling foundation, and settling are some 
possible concerns that affect older homes
 in NC. If these problems are not addressed, the safety and value of your home are compromised. Hence, it makes sense to include an inspection in your plan when updating your home.
Renovating a home is time-consuming and can become expensive. However, if done properly, the rewards are greater because you'll have a renovated dwelling that is safe, comfortable, and valuable.
Comments
comments