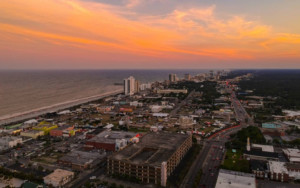 Housing costs in Myrtle Beach are 30% lower than the average. While the HOA fees and taxes are lower, rental rates and the employment rate are high.
Myrtle Beach is getting a lot of attention from American and international investors alike. Situated along the South Atlantic coast, this expansive beach city in South Carolina offers attractive opportunities to invest or buy.
Besides these features, the most enticing aspect of Myrtle Beach is its lower cost of living. The overall cost of living in Myrtle Beach is 7% lower than the national average. Fascinating, right? Not only this, it has exciting real estate opportunities to offer. There are also plenty of urban amenities, medical & other facilities available. Compared to Las Vegas or Miami, it serves almost the same facilities at a much lower cost.
This article will discuss why you should buy or invest in a property in Myrtle Beach.
1. Comparatively Lower Cost Of Living 
The main attraction of Myrtle Beach is its lower cost of living compared to neighboring states. That said, don't be concerned. It still has all the necessary services & facilities available.
A quick look at the housing price will tempt you to invest or buy in the Myrtle Beach area. The total housing cost of Myrtle Beach is 30% lower than the national average cost meaning that the oceanfront condos for sale in Myrtle Beach come at very affordable prices compared to other options.
If you look at the other costs, transportation costs like bus fares & gas prices are 8% lower than the national average.
Are you worried about health & hospital costs? You will be surprised to know that the hospital charges are almost one-third of what you would have to pay in Las Vegas & Miami.
2. Lower HOA Fees & Taxes
Whenever you invest in a property or decide to invest, the HOA fees are probably the first thing to cross your mind. Homeowners' Association (HOA) is an association of real estate developers who look after the properties & charges you monthly for their services.
Considering the facilities you will enjoy, the HOA fees are a lot less in the Myrtle Beach area than in other states.
The same is for the taxes. As for the high-risk properties like condos & oceanfront homes, the taxes you need to pay is usually higher. However, the reassuring thing is that taxes, in general, are cheaper in South Carolina. So, the condo tax rates won't necessarily bother you. Also, you won't have to pay $40-50 for annual inspection costs here.  
3. High Rental Rates
This point is exclusively for those who are planning to invest in the Myrtle Beach area properties. As a popular vacation spot, the enormous crowd in summer is truly a blessing for you as a landlord. The tourists have two options to stay; hotels & rentals.
Stats show that tourists want their vacation accommodations to have all the luxuries and comforts of home. As the rental prices have seen an upward trajectory, it's probably a good time for you to invest in buying a house.
A lovely looking oceanfront home will increase your chances of getting a higher rental rate. You can further use this money to pay your mortgages or loans.
The employment rate is also high here, meaning you will be getting local renters as well. Even during COVID-19, South Carolina has managed to recover unemployment numbers fast.
4. Affordable Homes & Condos at a Lower Price
The Myrtle Beach area is not so large – which means you won't have to drive over 10 miles to get all the amenities and necessities. Besides, the houses & condos are much cheaper here compared to other neighboring states.
From a one-bedroom mid-range condo to luxurious six beds condos, you have many options to choose from. You can buy your exciting oceanfront condo for under $200,000 here. From the modest earners to the millionaires, everyone gets equal treatment & finds their suitable places.
5. Good Community Services
The last thing you should be worried about at Myrtle beach is what to do in your downtime. Myrtle Beach has more miniature golf-courses per square mile than any other place in the entire world. 
Eighty championship golf courses over the 60 miles of shoreline will be enough to keep you busy. Even Golf Digest talks about how beautiful the golf courses in Myrtle Beach are.
Almost 600 fine arts events take place annually here in Myrtle Beach. There are also plenty of casinos in South Carolina. If you are planning to retire here or move in completely, the community is super friendly. You will meet lots of interesting people here along with all the professional, cultural, religious organizations.
The community has a reputation for providing valuable support & assistance in times of need. 
6. Bustling Summer & Relaxing Winter
Myrtle Beach receives 14 million tourists every year. As the summer is full of tourist hustle and bustle, you will find it easy to make money. The business of summer will boost your income generation possibilities.
After the summer, you will get a long warm, peaceful fall and winter. Don't worry about getting bored, though. The locals enjoy lower the prices of all the utilities & other services in the off-seasons. Besides, with fewer tourists, you will find the resort areas more calm, peaceful & exciting.
You won't have to worry about the hurricanes like Florida because they hardly hit South Carolina. Also, you won't face the unbearable heat during summer like you would in southern Florida. 
The winter here is short.  You will barely get 45 to 60 days of winter, with temperatures falling below 50. The good thing is you will enjoy all the seasons from the spring to Halloween or Christmas & none of the extreme weather conditions of the north or the south.   
7. Proper Health Facilities
If you are concerned about the healthcare facilities, then rest assured. There are enough doctor's offices, hospitals, diagnostic centers, and drugstores in Myrtle Beach to take care of all your healthcare needs. You won't need to drive over 10 miles a day to access services here.
Myrtle Beach has won awards for providing the best healthcare service several times. So quality is never an issue. Also, the community offers good in-home services, transportation facilities & so on. 
Final Thought
A revolution of new constructions is happening fast & quick. The properties & condos' upward trajectory indicates the flourishing business Myrtle beach will see in the coming years. Now is the perfect time to buy & get settled here or invest in the real estate business to earn handsomely.
Comments
comments