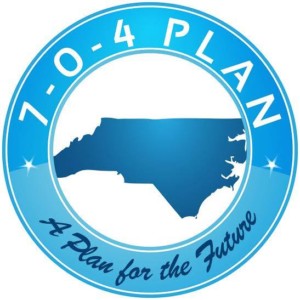 The 7-0-4 Plan is a revolutionary campaign to promote diversity and inclusiveness in the Charlotte, NC business community. This movement is positioning itself as an initiative for growing minority businesses in the local community. The cause looks to expand beyond some of the ideas of old grass-roots methodologies by utilizing an online presence with emphasis on social media platforms and a branded social network exclusive to supporters to complement its innovative ideas to facilitate growth. The program's purpose also looks to expand to enrich the lives and future of our youth by leveraging unconventional ideas. The mission is to establish its presence as a trendsetting social media campaign designed to build support for a diverse business community via an infrastructure around minority entrepreneurs.
Causing a catalyst for discussion among business leaders, Bob Johnson, former owner of Charlotte Bobcats noted to 200 local black businesspeople at the Westin Hotel, "Charlotte is a very,  how would I call it, close knit, arrogant, sometimes incestuous town…" After reading an article featured in the Charlotte Observer on May 2, 2010 discussing the lack of a robust African-American business community, the 7-0-4 Plan became the founder's brainchild. An extensive research was conducted by the founder to understand the link between entrepreneurship and economic growth; the role of entrepreneurship education, identification of entrepreneurial traits and examination of different pedagogy. Research was done through different components and now reflects his vision of how to build a diverse and inclusive business community.
The 7-0-4 Plan – a community-based project – is founded upon five guiding economic ideas to foster entrepreneurship. The summary is:
Develop an entrepreneurial workshop.
Create an incubation program.
Create substantial alliances.
Create an economic development plan.
Utilize Beatties Ford corridor project.
It is the absolute intention of the 7-0-4 Plan to be dedicated to promoting diversity and inclusion via a social media campaign – with the intent in the near future to transition into a nonprofit organization advocating minority business growth and developing novice entrepreneurs through advocacy, education, research and service. The initiative's purpose is to strengthen the local business community by providing educational programs in the form of seminars, workshops and an incubation program. The 7-0-4 Plan will support and promote minority business growth through peer directed and operated services, advocacy, economic development and participation in minority business policy design.
Execution of the 7-0-4 Plan would promote diversity and inclusiveness in the Charlotte business community and put the city on the fast track to explosive job growth and increased tax revenue base. Through this campaign we now have an unparalleled chance to take advantage of opportunities in the aforementioned areas and beyond. The mission and commitment through this campaign is designed to spark minority business growth and to build a stronger, more diverse business community. To find out how you can get involved to make a better Charlotte, visit www.The704PlanMovement.com or join the conversation at the cause's Facebook page, www.facebook.com/The704Plan. You can follow us on Twitter and Instagram at @704Plan.
Comments
comments