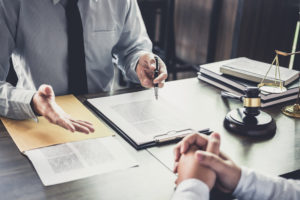 Everyone needs a lawyer on their side from time to time, whether it's for overseeing a property transaction or defending against criminal charges.
There are plenty of lawyers available to take you on as a client in Charlotte, but this presents the problem of overwhelming choice. So how can you whittle down the field and find the most appropriate attorney for you?
Hire a lawyer that specializes in the right area of the law
When it comes to lawyers, there's no one-size-fits-all option, because the law is incredibly complex, and legal professionals typically specialize in a particular area in order to best serve certain types of clients.
There are criminal lawyers, personal injury lawyers, property lawyers, divorce lawyers, and so on. This is important because you want to select a specialist in the type of law that applies to your circumstances.
Look for a personal injury lawyer who knows Charlotte well
Getting in touch with personal injury lawyers serving the Charlotte area is another must, and also applies to attorneys with other specialisms.
The reason for this is simple; each region has its own unique legislation, meaning that anyone from further afield won't know the ins and outs of the law as it applies to where you live. Only experts who have in-depth knowledge of Charlotte are in a position to represent you optimally.
Ask people you trust for recommendations
Lawyers often win over new clients by having them referred from existing clients that they've helped in the past.
Speaking to friends, family and workmates about whether they know of a good lawyer is sensible because of this. That way you won't just have to believe the marketing hype, but can base your decision on third party feedback.
You can also get in touch with lawyers to ask for their recommendations, because they'll be in an even stronger position to know whether or not a contemporary is a good fit. This only applies when crossing from one legal specialism to another, of course.
Carry out interviews
The lawyer-client relationship is a close one, and so you need to make sure that you truly click with any prospective attorney that's on your shortlist. The best way to do this is with an interview, either conducted in-person, over the phone or via video conferencing software.
You need to be aware of a few things when interviewing lawyers. First, do they have the type of personality that matches your own? Second, are they communicative and attentive? Third, do they have a good track record of successfully representing clients in the type of case that you're faced with?
If you can't get a lawyer to chat to you for an informal testing of the waters, then that's not the best sign in terms of how your relationship would develop if you did hire them.
Check official records
The North Carolina State Bar has a directory of members, which means that any lawyer who's approved to operate in Charlotte will have their information listed here.
Finding out whether a lawyer is property accredited takes just a minute using this service, so it's worth searching just to get peace of mind.
Find online reviews
Finally, it's no surprise to see that even lawyers have not managed to escape the scrutiny of online reviews, and in many cases you'll be able to see what others are saying about them with a quick search.
The bottom line
It doesn't take much work to find and hire a good lawyer in Charlotte, so do a little research, ask for recommendations and check your compatibility to ensure you make the right decision.
Comments
comments