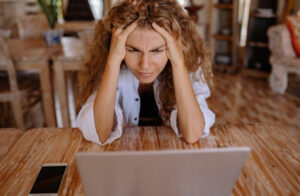 A delivery that doesn't arrive on time, an email that goes unanswered, a short-staffed service, a defective product… Any business is exposed to unforeseen events that can cloud your customers' experience.
Are you ready to handle negative reviews on Google My Business or Facebook? Read on, and I'll show you how to respond to your customers' reviews to minimize their effects and strengthen your digital reputation.
Article table of content:
The importance of reviews
Negative reviews also help businesses
12 Tips for responding to negative reviews
Conclusions
The importance of reviews
The main problem with reviews is that many businesses are unaware of their reach. They ignore them (or don't spend time on them) because they think their customers won't "buy into" them. It is a huge mistake, and we're going to prove it with data.
According to Bright Local's 2019 local consumer survey of 1,000 people in the U.S., 82% of consumers read reviews of local businesses. And as you can see in the chart, this habit is common across all ages.
People look for reviews because they want to find real information, "what is not told in the brochure."
But let's continue with the survey because here comes the most revealing data: 76% of consumers trust online reviews as much as they trust recommendations from friends and family. This is true for young audiences (18-34 years old) and adults (35-54 years old).
Negative reviews also help companies
The reality is that negative reviews can be helpful, beneficial, and even necessary. And this is not marketing quackery. Let me lay it out for you.
First of all, profiles with negative reviews are more credible. And that trait, credibility, is one of the most valued by consumers. If you are not credible, your potential customers may think you are not telling the whole truth, or outright lying.
According to a review study conducted by the review platform Reevoo with more than 150 companies, 95% of consumers suspect censorship or fake reviews if they don't see any negative ratings. You can read it in their free ebook Bad reviews are good for business.
Having positive and negative reviews increases the credibility of the company profile.
We continue: negative reviews also show that you know how to act if there are problems. Remember that reviews are public so that all users can see them, including your future customers. They will read them thoroughly with a clear intention: to know what you will do if the same thing happens to them.
Closely related to the above, negative reviews are also an opportunity to convey customer service, whether paper writing offers or food delivery, and differentiate yourself from the competition. When your future customers see that you take the time to respond to negative reviews, they perceive a "plus" that can be decisive when deciding who to buy from.
In fact, the Reevoo study we reviewed earlier also concluded that 86% of consumers would pay more for better customer service, and 74% say they already do.
On the other hand, negative reviews also allow you to detect problems that you only see from the customer side, which is the side that matters most! These negative comments sometimes provide information that does not come through other channels, such as satisfaction surveys.
Resolving complaints in the present helps prevent similar complaints in the future.
And finally, negative reviews are an opportunity to humanize our brand. Show that we are more than a website, a product catalog or a commercial speech. Don't forget that people buy from people in the end, and when you talk to your customers, you show that your company is flesh and blood.
Aren't those one-star ratings not so scary anymore?
Let's now look at some tips for responding to negative reviews on Facebook, Google My Business and social networks.
12 Tips for responding to negative reviews
Evaluate if the review is legitimate
Just because a business profile is open does not mean that any review is valid. If you believe that the content of a review does not truly value your business, you can request its removal from the platform. 
A real example: a negative Google My Business review in which a user insulted the company because he applied for a recruitment process and was not told if he was given the job. After noting the reasons for the review and responding to it, it was flagged as inappropriate and disappeared a few days later.
Remove fake reviews
Depending on the platform, you will find an option to "mark as inappropriate" or "report post" next to each review.
Now you may be thinking, what do I do with the reviews that I suspect are fake but have no text? That is, they only rate with one star and don't say anything, so they "don't break any rules".
You can also report them, because sometimes these reports serve to detect fraudulent profiles. But be careful, reporting a fake review does not guarantee its deletion. That is why we must respond to false reviews: because we do not know if they will be there forever.
As removing negative reviews from Google My Business or Facebook is not in our hands, it is best to focus on getting positive reviews from our customers. 
Respond reasonably quickly
As we have already seen, consumers value customer service highly. To convey this added value from your company profile, nothing better than responding quickly to all reviews: the good, the bad, the old, and the false. 
Although each review will be different and will require time, I recommend that you do not leave them unanswered for more than 7 days. 
Meet with the professionals involved
Complaints are usually addressed to company departments (e.g., sales, after-sales…) or specific individuals. Whenever possible, sit down with the affected professionals and get their version of events. 
In any case, never offload on the professional involved the responsibility of writing the final response. This person may be very good at their job but not be prepared to answer a Google My Business review.
You can write a draft of the response and review it with him/her to make sure your version is correct.
Be empathetic and polite
The basis of good response is to understand the customer's discomfort. Is he/she disappointed, angry, cheated? What did he/she expect to get and what happened?
Putting ourselves in their shoes will help us understand what kind of response is best for the complaint. In any case, when responding, it is forbidden to accuse, confront or belittle. The last thing your future customers want to read is that you are fighting with the current ones…
Say thank you
With this simple gesture, you show that you value the time your clients invest in writing to you and that you know how to deal with criticism. You can start your response with a simple "Hi XXX, thanks for sharing your experience".
Call people by name
Unlike other corporate communications, impersonal formulas such as "dear user" or "distinguished customer" are not valid in responses to reviews. To do so is to ignore someone who has written to you from a profile with their own name.
Apologize and take responsibility
Nobody likes people who don't admit their mistakes, and the same goes for companies.
This does not mean that you always have to prove the customer right. Apologize if your company or partner (e.g. courier company) has failed and explain why it happened. The only thing to do is to be honest and transparent.
Offer a solution
As we have already seen, your future customers will read the negative reviews to see what you would do if the same thing happened to them. Knowing this:
If the complaint has a solution, respond by explaining what corrective action you will take and if you are going to make some kind of compensation to the user.
If there is no possible solution, clarify why let them know that you take note of what happened (or the suggestion) and thank the user for sharing their experience.
Do not publish personal data
The author of the review may be in your database. In that case, never respond to him/her publicly by including personal data that is not in the original review. If your new information unequivocally identifies the author, you may be violating data protection laws. 
Likewise, if you need the author of a review to provide you with sensitive information, it is best to ask the author to send you a private message or email.
Watch your spelling
This is related to the previous point. Those who read your response will value not only what you say, but how you say it. Misspelling is not an option. To make the best impression, use simple language and proofread your answer with a spell checker.
Most popular word processors include proofreading features, but if you don't have one handy, you can create a Google Docs document and paste your answer and spell check it there.
Don't feed the trolls
We consider trolls to be authors of destructive reviews, who omit facts or lie for attention, provocation and fun. Many of these reviews may be reported and removed, but responding to them should be a must.
Keep calm and, as if you were dealing with a constructive complaint, be grateful for the comment (and clarify the lies or inaccuracies if there are any).
As annoying as these kinds of reviews are, remember that not all negative comments are credible. The average user will not waste time reading stupidities and meaningless complaints.
Conclusions
Reviews are already part of our consumer habits, so companies that take care of their online reputation will gain (or are already gaining) a differential advantage.
Managing this customer service channel requires no investment and can have a positive impact on business figures.
Answering reviews on Google or social networks requires a combination of education, empathy, and strategic vision.
There is no need to fear negative reviews if you know how to manage them (and if you have come this far, I'm sure you do).
Comments
comments