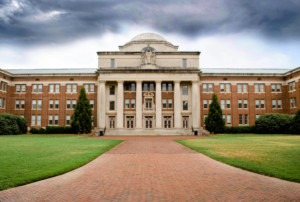 Choosing the right college is about analysis and some magic. Of course, you want to pick an institution that provides you with opportunities you are looking for, so you need to do a research first. However, there is a slight touch of mystery here as well – sometimes, you have no idea why this or that college makes you excited. You just visit someplace only to fall in love with it. Similarly, days of research can convince you that this or that college is a rational choice, but you don't like it without any reasons that can be articulated. The feeling you get from the campus, and the college as a whole makes a huge sense.
Colleges in North Carolina offer more than education and atmosphere. Incredible beaches and breathtaking mountains make NC an ideal place to study. There are 17 state institutions there as well as endless independent colleges. How to choose the one that will give you that amazing feeling of being where you belong? And how to become its student? Let's discuss this.
Tip #1: Get ready for competition and prepare your application documents early
The colleges of North Carolina offer fantastic opportunities for both US and international students. The University of North Carolina at Chapel Hill and Duke University have a pretty low acceptance rate – about 20%. 
In general, students in North Carolina apply Early Action by the 15th of October and Regular Decision by the 15th of January. The application process here is pretty standard, and you can get all the key information from the web resources provided by particular colleges you are heading to. Here are the documents you will need no matter which college you choose:
Your SAT and/or ACT scores

The short application letter or response paper

Recommendations from your educators  

High school transcriptions

Secondary school statement 

Application fee

IELTS or TOEFL scores if you are an international student
If you are from North Carolina, then you have more chances to get a place. North Carolina colleges give preference for local students (41% in-state students compared to 13% of our-of-state ones).
Tip #2: Find someone who has been through this before
 It's crucial to surround yourself with people who have already been through the application process before. Find students of the colleges you consider as options and ask for some advice. Interview them about things that interest you the most – from campus housing to clubs. If you have problems with the application process, find a counselor or mentor to ask for guidance. It's easy to get cheap service by Australian writers to receive professional assistance with your application letter writing. Near-peer helpers who have successfully gained admission can prepare you for the issues you haven't been aware of. At the same time, skilled academicians will help you set yourself apart from the crowd.  
Image source: collegechoice.net
Tip#3: Your scores matter
Yes, we all know that your grades are not even half of your application, but in reality, they do matter. Relax, your C for Chemistry won't be determinative, but this doesn't mean that your previous success doesn't matter at all. Choosing a college, you need to know the requirements related to scores and particular subjects. Make sure that you meet them – there is no sense in applying if your grades don't fit this or that college.
If you want to get a place in a top college of North Carolina, be ready that you will compete for it with the best high-achievers. For example, when it comes to Chapel Hill University and colleges of the same level, about 80% of admitted students were in the top of 10% of their high school class. Your SAT scores should be about 1280-1470, and ACT scores should reach 29-33. 
Tip #4: Your extracurricular activities matter as well
Well, not the kinds of those activities, but actually your stance on them. The admission committee cares about your passion and success more than your particular interests. When writing an application letter, pay attention to this point. This means that you are welcome to tell about your initiatives, like starting a club or organization, taking a leadership position at school, or having awards for your successes. If you do have an experience of that kind, make sure to inform the admission committee about the reasons why these activities were important to you and how you pursued your ideals and values when following them.
Both top and cheapest colleges in NC are looking for candidates who will bring vivid presence to their campuses. That is why they are focused on your past experiences, unique qualities, and involvement. When writing an application letter, talk about extracurricular activities, you would like to continue pursuing. 
Tip #5: Reveal your personality
As we have already mentioned, colleges are interested in you as an individual, not just your grades. That is why, when writing a letter, make sure to show it. NC colleges are looking for learners that have talents and knowledge as well as inspiration to look for solutions to current global issues. When writing a letter, make sure to demonstrate the strong sides of your personality and values. Choose the college that coincides with your world view – this will not only increase your chances to enroll but also reassure that you are following the right direction in life.
Conclusion
North Carolina offers perfect conditions when it comes to education. What is more, the local atmosphere is truly amazing – calming nature, mountains, and sea make this state a desirable place to live. Students from all corners of the US and entire world apply for colleges of NC, so the level of competition here is striking. However, there is nothing impossible! A well-done application letter, a full pack of documents, high scores, and strong aspiration can do wonders. Make sure to prepare your application package beforehand, find someone to consult with, approach the response essay smartly, and your chances to enroll will grow. Choose the best college for yourself, get prepared, and good luck with your application!
Comments
comments