With the COVID-19 pandemic forcing millions of Americans to quarantine and isolate at home, many have come to realize their living spaces aren't exactly how they envisioned. With 9-to-5 schedules, children to take care of, and other obligations, it can be easy putting your home to the wayside. Now, with more time on your hands, you can finally take the time to spruce up areas of your home you neglected. To get started, take a look at our top five small interior design updates you can make to transform your space.
1. Gallery Wall
If you want to add some sophistication to your home, you can't go wrong with a gallery wall. Gallery walls may have been around for centuries, but for good reason. They're timeless and are a great way to show your sense of style.
For your gallery wall, think about your home's theme. Is it boho-chic? Choose light-colored wooden frames with photos in warm tones. For vintage homes, antique gold frames with black and white or sepia-toned photos will look spectacular. And for modern homes, sleek black frames with art from a local artist will portray your sense of style.
What's great about gallery walls is that they're simple to create. You can go thrifting and find unique frames second hand, or you can design gallery wall templates online and order prints and frames there.
2. New Couch
To spruce up your living room, one easy update to make is swapping out your old couch for a new one using the L Shaped sofa buyers guide. Your couch is the focal point of your living room and draws a lot of attention. A new couch can breathe new life into your living room and completely transform the place. If your current couch is in decent condition, you can try selling it on an online marketplace and put that money toward your new sofa. There are plenty of great brands to choose from that can match any style, such as Hooker Furniture, Liberty Furniture, and West Elm.
3. Indoor Houseplants
An excellent way to add a pop of color to any room is by adding some indoor houseplants. Indoor houseplants are great for many reasons—they're colorful, purify the air, and have many proven health benefits. When it comes to buying indoor houseplants, it's important to consider the room they're going in and to look at sunlight levels. If you're in a darker home, you'll need sturdier plants that can withstand a lack of sunlight.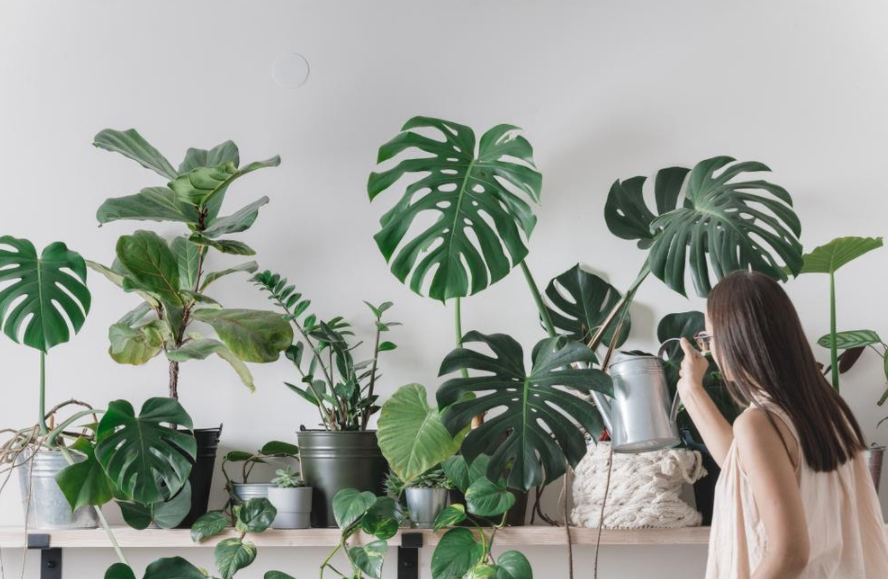 Some popular indoor houseplants to create your own at-home botanical garden include:
Snake plants

Peace lilies

Monstera

Fiddle leaf fig trees

Spider plant

Calatheas

Ponytail palms

Pothos
To ensure your plants thrive and survive, make sure you keep them on a consistent water schedule and water them once or twice a week. You can even consider propagating them to cut down on costs of new plants and enjoy the thrill of growing your own.
4. Doorknobs and handles
The fixtures in your home tell a lot about your style. A simple small update you can make is swapping out fixtures like doorknobs, handles, and light switches and replacing them with new ones. Popular ideas include transitioning to all gold fixtures for either a sleek and modern look or vintage look. Or, you can consider silver fixtures to match a Scandinavian or minimalist theme, or wooden fixtures for a Bohemian or rustic theme.
5. Lighting
The lighting in your home plays a significant role in setting the mood. A simple update that can transform your space is updating your lighting with new light bulbs. Rather than incandescent bulbs that emit a yellowish hue, switch the LED bulbs that are not only better for the environment, but can brighten up a room without being overbearing. You can also replace your light fixtures by adding standing floor lamps in the corner of your rooms, or replacing ceiling lights with more modern designs.
Wrapping up
When it comes to transforming your space, it's important to keep a theme in mind. As you look for new fixtures, furniture, wall art, and other home decor pieces, make sure they flow throughout your home and match the theme you're going for. With these five small updates, you'll make your home feel brand new.
Comments
comments