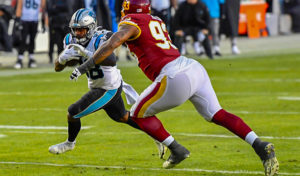 The Super Bowl LVII finale season is right around the corner, and teams from both AFC and NFC continue to gear up for the ultimate showdown. Although last season was a blast, today, the NFL fever is back for more, featuring the best teams and the presence of its avid fans all over the world. 
While the NFL fever continues today, many surprising events are making the Super Bowl a more exciting eventto look forward to. From huge sleepers for many decades to the underdog players who displayed exemplary performance makes the Super Bowl LVII edition a more thrilling event.
ith a few more weeks remaining before the final battle for the Lombardi trophy, let's meet the best players in today's NFL season. Knowing them can help secure your Super bowl betting journey a breezend allows you to pick the right players to back on. 
Aaron Donald, Defensive Tackle
His fourth MVP award went to him in 2021, and he still plays at a high level. To see what he accomplishes without Davante Adams will be interesting for the Green Bay Packers. 
Aaron Rodgers, Quarterback 
His fourth MVP award was given to him in 2021 and he is still playing at a high level. To see what he accomplishes without Davante Adams will be interesting for the Green Bay Packers. 
Patrick Mahomes, Quarterback 
Although he wasn't as strong as in previous seasons, he is still among the league's top players. It will be intriguing to watch what he accomplishes this season, minus Tyreek Hill.
Josh Allen, Quarterback 
In the past, many football fans have questioned Allen's ability. However, he has consistently shown himself to be an MVP material. The Bills system heavily relies on his ability to run and pass while on the field. Truly, Allen is a real football star player. 
Cooper Kupp, Wide Receiver 
He became the top player in the NFL last season after leading the league in catches and yardage. Additionally, he tied for the overall league lead with nine catches of more than 40-yards. Not only that, but he also led the team in catches of more than 20-yards. 
Tom Brady, Quarterback 
Brady had one of his best statistical seasons today, making 43 touchdowns and 5,316 yards. When do you think this player begins to loosen off? Whether this will be his final playing year or not, there is no reason to believe he won't post impressive numbers in the future.
T.J. Watt, Outside Linebacker 
He tied Michael Strahan for the most sacks in a single season with 22.5 and was named "Defensive Player of the Year" after leading the league in that category. Watt is a double danger on the edge since he is effective against the run as well.
Trent Williams, Offensive Tackle 
He is going off a season in which he was the top offensive lineman in the NFL at the age of 33. His ability to get players off the ball is a key component of their run-heavy system, and he excels as a pass blocker.
Myles Garrett, Defensive End 
He continued to be one of the greatest edge players in the league last season with 16 sacks. He can turn a game with his unbelievable ability to pursue the quarterback. He plays with a speed that tackles struggle to contain him.
Jalen Ramsey, Cornerback 
Despite being a big cornerback who thrives at playing man coverage, he has developed into an all-around cornerback player capable of doing nice things. Last year, he excelled close to the line of production and had since improved greatly as a zone-coverage player. He consistently ranks among the league's best.
Davante Adams, Wide Receiver
He had a record-breaking year in both catches and yards. However, he will no longer be partnering with Aaron Rodgers but with Derek Carr. It will be fascinating to watch how it will affect his statistics.
Nick Bosa, Defensive End 
He played two games in 2020 after suffering an Anterior Cruciate Injury. Although he met an ACL, Bosa had ended in fourth place with 15.5 sacks. Besides, he is one of those pass rushers who can dominate and uses force and speed in his play.
Justin Jefferson, Wide Receiver 
In his two seasons, he placed second in yardage with 1,616 and fourth with 108 catches. Also, he caught ten touchdown passes. It's scary to imagine the improvement he might achieve this season when he gains more knowledge of the role.
Final Thoughts 
After the Week 11 playoff games, the road to the Super Bowl LVII finals became more challenging. However, with the current best players in their respective positions able to maintain their strength, they can bring their team to the finals round without any doubt. 
Comments
comments