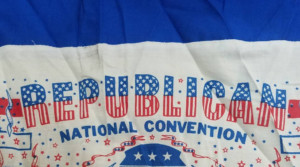 The 2020 Republican National Convention site selection committee left Charlotte on Friday after spending the better part of last week talking with Charlotte leaders and visiting many of our top attractions.
According to a statement by the committee, about 30 of its members traveled to Charlotte to tour the city with Mayor Vi Lyles, NC Republican Party Chairman Robin Hayes, and leaders from the Charlotte Chamber of Commerce and the Charlotte Convention and Visitor's Bureau.
The group toured the Charlotte Motor Speedway, the NASCAR Hall of Fame; and the Spectrum Center and Convention Center, along with several of our top hotels and restaurants.
Charlotte leaders also made a presentation to the committee, laying out what worked and did not work during the 2012 DNC in Charlotte.
"Over the past three days, I have had the pleasure of working with Mayor Vi Lyles, her team, and a number of Charlotte officials making a presentation to the RNC Site Selection Committee. I could not be more proud of their efforts, professionalism and hospitality. They and the Charlotte Regional Visitors Authority have put on an all-star presentation highlighting the benefits of Charlotte, Mecklenburg County and surrounding areas in the state of North Carolina. I look forward to the decision of the site selection committee. Based on merit, I think we have a great chance of winning the competition," stated NCGOP Chairman Robin Hayes.
Republican sources are now saying the finalists for the 2020 GOP Convention are Charlotte, Las Vegas and a yet-to-be-named city in Texas.
The City of Charlotte officially submitted their bid to host the 2020 Republican National Convention earlier last month.
"We're incredibly grateful for the support and assistance of our many City of Charlotte partners, hotels, venues and others who helped to craft this thorough response on behalf of our region," commented CRVA CEO Tom Murray.
The convention would be a huge economic boost for our city, considering that the Democratic National Convention that we hosted in 2012 had an estimated economic impact of over $163 million.
What are your thoughts on Charlotte hosting the RNC?
Comments
comments