At this past Wednesday's meeting of the CRTPO (Charlotte Regional Transportation Organization), the highly anticipated 'Catawba River Crossing Corridor' was officially approved and numbered as an NC road – an important step in the eventual planning, funding, and construction of a third bridge joining Mecklenburg and Gaston Counties.
The cost of the project is currently estimated to be around $200 million. The Transportation Planning Organization (TPO) of Gaston, Lincoln and Cleveland counties would pay around 60%, and the CRTPO of Mecklenburg, Union, and Iredell counties would be responsible for funding about 40% of the project.
This past week's decision includes a modification of the original 'Garden Parkway' plans to account for the massive new River District development;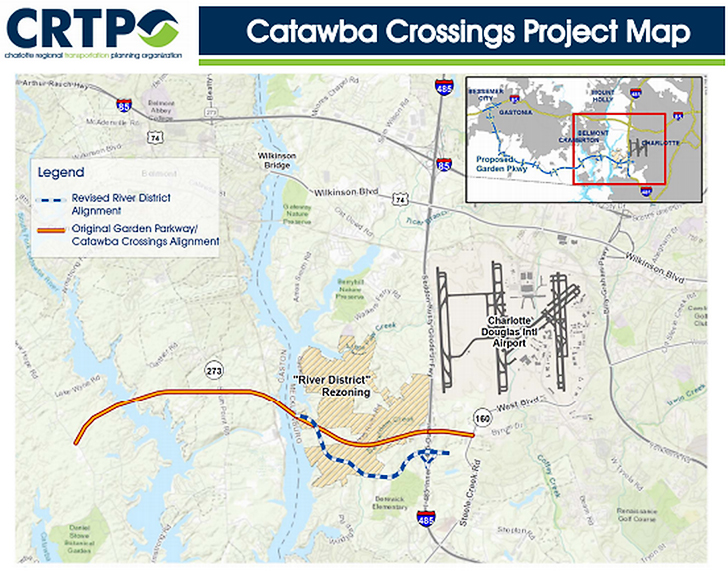 Here is a map of the original plans for the Garden Parkway, which the final plans for the 'Catawba River Crossing Corridor' will most likely be based on;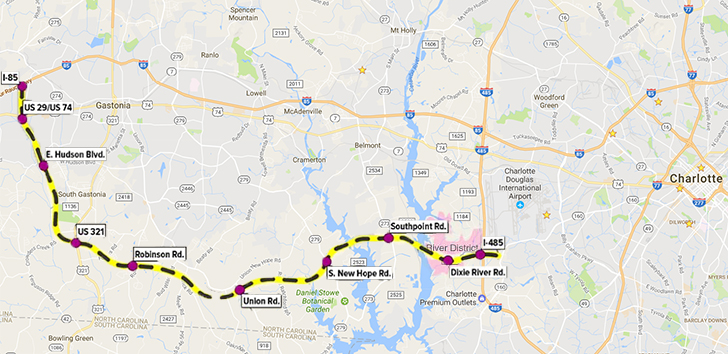 Currently, there are only really two main roads that connect Charlotte with Gaston County – I-85 and 74 (Wilkinson Blvd.), which will usually both become backed up for miles during rush hour.
According to the Gaston Cleveland Lincoln Metropolitan Planning Organization, the total population of Gaston County grew by 3.2% between April 2010 and July 2015 (now estimated to be at 212,636 residents). The N.C. Office of State Budget and Management now expects that number to increase to 9.1% between 2020 and 2030.
What are your thoughts about the new bridge and Catawba River Crossing Corridor? 
Comments
comments