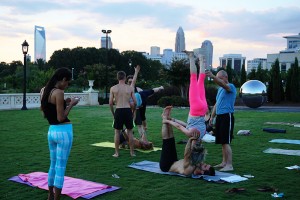 AcroYoga has been around since the mid-2000s, but recently, the trend has started to go mainstream, especially here in the Queen City.
The practice took the national media spotlight last year, when Lena Dunham – star and writer of the HBO series Girls – began posting photos of herself on social media, doing extreme yoga poses while balanced on a friend's feet.
The founders say it is the perfect antidote to a world where real human connections are increasingly lost in a sea of social media. Although can look incredibly challenging, those who practice it insist it becomes easy with the right instruction.
Acroyoga is often done outside, it's best suited for warm climates and plenty of sunshine. This could be one of the main reasons we've seen such an explosive growth in the Queen City. In the past year alone, several AcroYoga clubs have started, and dozens of studios throughout Charlotte are now featuring AcroYoga, including; Y2 Yoga, Okra Yogo, Arrichion Yoga, and several others.
Charlotte has also been witnessing the rapid growth of hot yoga, aerial yoga, and PiYo.
Have you ever tried any of these new yoga trends?
Comments
comments