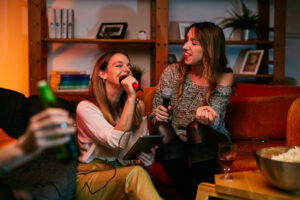 Spring is here and we are more than ready to put the cold weather behind us! With spring in full swing and summer on the horizon, it's time to start thinking about barbecues, pool parties and fun in the sun. If you spent all winter on the couch, accompanied by your Netflix subscription, it's time to start basking in the warm spring air and to do some outdoor entertaining with your friends and family. Keep reading for a guide on hosting a fun spring weekend at home.
Preparing Your Space
Once the long winter months have come to an end, you may notice that your patio/backyard area may need some refreshing. Once the snow has melted you can head to your local plant shop and start choosing a variety of plants and flowers that will thrive throughout the warmer months. You can choose hanging plants, potted plants, or plants that you can plant in your flower beds. No matter what you choose, this step will make your outdoor areas instantly more inviting.
You will also want to make sure your backyard or patio has adequate lighting as you'll want to enjoy your space well into the evening hours. Hanging fairy lights, tiki torches or lanterns is an aesthetically pleasing way to light your entire backyard and set the mood for entertaining.
Another great way to set the mood for a fun at home weekend is with music of course! When entertaining, the right music is key for ambiance. You have the option to stick to something classic and timeless by putting on some jazz vinyl records, or you could go fully modern and invest in an outdoor Bluetooth speaker. Bluetooth speakers nowadays come in long ranges that can be heard all over your backyard. They are also weatherproof and can be hidden in clever rock designs that will look great in your garden area.
If your furniture took a beating this winter, try replacing the seat cushions on your chairs. Most outdoor furniture sets either have removable seat cushions or can have cushions installed on them after purchase. No matter the case, you can find seat cushions that come in a few sizes that are relatively universal. Your family or guests will love catching up on a set of fluffy and brightly colored cushions, so make sure your seating is up to date.
If you have a pool, you will want to turn on the heat ahead of time and make sure you are following the proper protocol when using maintenance chemicals. This way the pool is ready for your kids and all their friends to enjoy when the time comes. Don't forget to invest in some fun pool accessories like these animal pool floats to help keep the kids entertained.
Food and Drinks
Once you have your outdoor space revamped and ready for entertaining, you will need to start thinking about food and drinks for your family and friends. Start your guests off with some bite size appetizer options that they can snack on as they relax around the pool. Mini avocado toasts, deviled eggs or shrimp cocktail shooters are perfect for the warm weather and won't spoil the dinner you have planned next.
For the main meal, grilling is going to be your obvious go-to. But you don't always have to go for the standard fare of burgers and hot dogs. Spring is a great time to try grilling things like salmon, ribs or even tofu for your vegetarian friends. For veggies, corn on the grill is a classic, but don't be shy to try out any of your favorite produce on the grill. You can use a grill basket to cook things like snap peas, carrots or brussels. Use bright and refreshing seasonings and sauces like lemon butter or pesto to fit the spring theme. If you do not have a grill, using high quality ceramic cookware to prepare a meal for your guests is a great option.
Once your friends and family have indulged in a home-grilled meal, finish off the evening with a decadent dessert. Don't power down the grill yet because some of the best spring sweets can be prepared using this appliance. Impress your guests with juicy grilled peaches topped with a graham cracker crumble and served with vanilla ice cream. Or throw some bananas on the grill for a unique spin on the standard banana split for a treat that kids and adults alike will love.
You won't want to forget to provide different beverage options for your guests as well. You can awaken your inner bartender and prepare some delicious spring themed cocktails. Strawberry margaritas or mango daiquiris are easy to make and can be blended or on the rocks depending on which equipment you have in your kitchen. If you don't want to play bartender while you are entertaining, try out some premade canned cocktails. These are delicious and refreshing and come in a variety of flavors. For guests that don't drink, you'll want to provide them with a fun beverage option that differs from what's in the kid's cooler. Tepache has a wide range of unique and tasty flavors that will make you feel like you are enjoying a fun and fruity cocktail, minus the alcohol!
Getting Ready for the Weekend
With all the details ironed out, you are almost ready to have the ultimate spring weekend at home. The last step is making sure you look and feel good for your spring blowout. You'll want to dig out the sundresses and bathing suits you stored away last winter. Make sure you have some light sweaters on hand if you live somewhere where the temperature drops at night. If you are expecting a little one, check out these maternity sweaters. They are great for expecting mothers who don't feel comfortable showing too much skin in the warmer months. That way you can look and feel stylish as you entertain at home.
Once you are dressed, it will be about time for your guests to arrive for your spring weekend at home. You don't need to go out to have a great time as you have expertly prepared all the amenities you need for the perfect fun weekend! So kick back, relax, and enjoy the warm weather in the coming months!
Comments
comments