Yesterday afternoon, the majority of the Charlotte Region's 2.4 million residents stepped outside their homes or offices to witness the first 'American eclipse' in 99 years (first total solar eclipse to travel across the entire US continent since 1918).
Here in Charlotte, there was a 98% coverage of the sun by the moon, meaning the eclipse never reached full 'totality'.
This was what the eclipse looked like at its maximum coverage point in Charlotte at 2:41pm;
That 2% sliver of sun was so bright that it could still blind your naked eyes – at no point during the eclipse in Charlotte could you take your glasses off.
But the sky was certainly darkened and nature did freak out a little;
And the sun's bokeh still made these incredible 'banana sun' shapes all over the ground;
Although we never reached 'totality' here in Charlotte, that didn't stop people from crowding rooftops, balconies, and backyards to catch a glimpse of the 'banana sun'.
Many other Charlotteeans traveled down to the Greenville, Columbia, Charleston areas to witness the eclipse 'in totality' (myself included).
Because of the historic nature of yesterdays 'American eclipse', millions from outside of Charlotte also traveled down to South Carolina from the Northeast and South to witness the event, emergency crews prepped weeks in advance and began warning drivers of coming delays on the road.
Not a road sign one sees very often. #SolarEclipse2017 #CLT pic.twitter.com/yb0cqOaX2o

— Steve Hewitt (@stevenhewitt) August 16, 2017
I decided to brave the traffic yesterday morning. I left at about 10am and was actually surprised at how light the traffic was – I made it down to Lexington, SC in just over 2 hours.
I met my family in a small park that sat in the middle of the path of totality;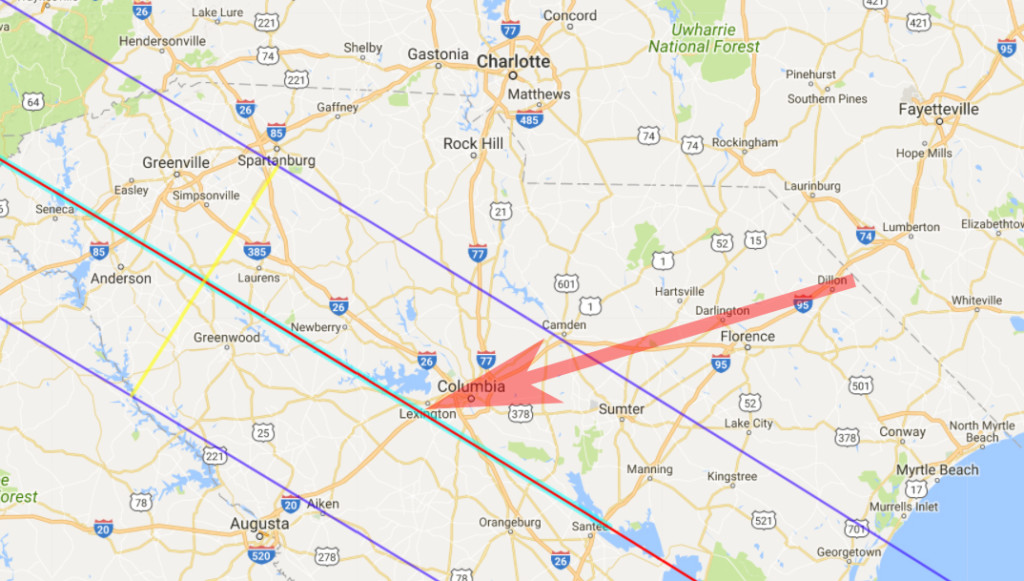 Here are a few of the shots I was able to capture with my Sony a6300;
I left at about 4:50pm and somehow make it through Columbia without hitting any rush-hour traffic…but just when I thought I was home-free about 10 miles north of Columbia in Blythwood…the traffic nightmare started.
I took a couple detours down some backroads, but they were all bumper-to-bumper as well. I quickly realized that driving 20mph up I-77 was my best option.
I ended up making it back to Charlotte at about 9pm.
It was a long day – but it was worth it!
What was your 'Great American Eclipse' experience like?
Comments
comments