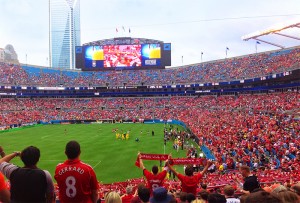 Last year over 69,000 people filled the Bank of America stadium for the Chelsea FC vs. Paris Saint-Germain FC soccer match. This year, international organizers are planning for even bigger crowds to fill Charlotte during the highly anticipated Inter Milan vs. FC Bayern Munich match.
With eight UEFA Champions League titles between them, these two soccer teams are renowned for producing some of the world's best talent – FC Bayern (the apex of German athletics) sent 14 players to the World Cup in 2014, more than any other club in the world.
Last year's match almost filled the 74,000-seat Bank of America stadium, with attendance of 69,364 for the Charlotte match.
This year, Milan vs. Bayern will face off on Saturday, July 30th. Early pricing on tickets are now ranging from $57-$106 for the Champions Cup game.
Please share with anyone who loves sports; 
Comments
comments