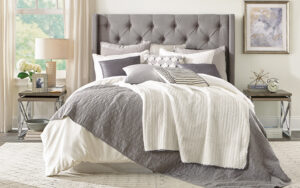 When it comes to spending money on items for your home, you want to make sure you are investing in the right things. That is why when looking for a new throw blanket, you should take some time and do your research before making a decision. With so many options available, finding one that meets all of your needs can be challenging. But, with the correct information, it can be easy to find the perfect throw blanket for your bed.
One of the main things you need to consider when choosing a throw blanket is what material it is made from. You want something that will be soft and comfortable against your skin but that will also keep you warm throughout the night. A perfect example of this would be the Everlasting Comfort Luxury Faux Fur Throw Blanket – Soft, Fluffy, Warm, Cozy, Plush (Gray). It's a soft and plush blanket made from faux fur material.
Another thing to think about is the size of your bed 
You don't want something that will overwhelm or look awkward on top of your mattress, but you also don't want one that's too small for comfort either. So just the right size is what you're aiming for.
If your bed is king-size or larger, then you should invest in a blanket that's over 100 inches squared. This way, it will cover the top of your bed to ensure maximum comfort while sleeping throughout the night.
The color of the throw blanket is another thing you want to consider
You can go with a traditional color like white, gray, or black if that's what you prefer to match your existing décor in your bedroom. But, if you're looking for something bolder and more colorful, then there are other options available as well.
You also need to think about the price of the blanket
Just like anything else, you don't want to spend a fortune on something that you're only going to use for a few months out of the year. That's why it's essential to find something that is affordable but still high quality.
Once you've considered all of these factors, it will be easy to start shopping for your new Everlasting Comfort throw blanket. The right one will meet all of your needs, look great in your bedroom and go with the décor that you already have.
Also, consider: How long will the blanket last?
Quality matters when it comes to anything you purchase for your home. That's why when looking at different throw blankets, make sure the material is durable.
Can it be machine washed? What about tumble dried? These are all essential things to think about before making a final decision on which blanket is best for you. If the materials aren't easy to clean and can't withstand being washed, it won't last as long as you want.
Conclusion:
When choosing a new throw blanket for your bed, there are many different things to think about. But, by considering the factors listed above, it will be easy to find the perfect one for you and your needs. So, don't wait any longer and start shopping today!
Comments
comments