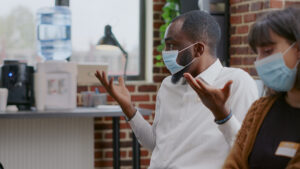 In a world where addiction rates continue to rise, addiction recovery is a quest in itself. It means that substance abusers worldwide are pitted against a deluge of mental and physical obstacles to get clean and sober again.
Unfortunately, their journey towards sobriety does not end once they've conquered their addictions; instead, it's just a step towards a new, fulfilling life of sobriety.
However, the biggest hurdle is not what patients have to deal with the spur of the moment they stop using drugs or alcohol. It's likely something altogether more unexpected—a pandemic that has swept across most of the planet and rendered normalcy nonexistent. 
In these conditions, addiction recovery is all but a dilemma.
The COVID-19 pandemic, also known as the Coronavirus, is an ongoing global pandemic that has hit the world like a wrecking ball. The pandemic has completely changed life for many people worldwide. 
Residents are quarantined and isolated in their homes, towns, and cities. People can move around within their residence, but everyone is advised not to leave their homes due to possible exposure.
The Coronavirus disease is caused by usually spreading through droplets, released into the air when a sick person coughs or sneezes. The virus is also transmitted by touching anything contaminated with these droplets and can remain infectious after leaving the infected host for 24 hours.
The virus reduced life expectancy rates significantly, affecting all people across all age groups and social classes equally. Everyone is at risk of contracting the disease. 
The best way to prevent this is by avoiding physical contact with other people as much as possible, but this is difficult because seeing others in public is unavoidable.
The Pandemic's Effects On Addiction Recovery
This pandemic has been the biggest hurdle for people trying to recover from addiction, especially when they've no choice but to interact with other people regularly.
It results in many relapses since patients cannot cope with their new reality and reach out for alcohol or drugs for comfort.
Usually, substance abusers would start rehab immediately after expert advice and diagnosis that they have a problem with addiction. However, this pandemic has rendered regular rehab services defunct. Some facilities are still open but only house the workers and their current patients. Outside patients still are advised to seek treatment even if these facilities are no longer operational. Still, it's challenging to do so since logistics are almost nonexistent in the current pandemic conditions. 
To find out more about addiction recovery in the face of these pandemic conditions, contact companies or organizations offering services for drug rehabs.
It means that their recovery is put on hold indefinitely for addiction patients. They have to cope with the quarantine without accessing the support of family members or friends, or even medical professionals.
Even for those who find a way, other hurdles come with this transformation. Here are some of them:
1. The Effects on Mental Health
First of all, there's psychological stress brought about by the pandemic.
Without complete information regarding the spread of the virus and its effects on people, patients, and their families can only do so much to keep each other calm and collected.
Without rehab services, many recovery patients find themselves without a support system. Friends and family members who used to be around them are also becoming scarce. 
It only serves to increment the fear, uncertainty, and anxiety that patients are already experiencing, which can trigger mood disorders like depression or worse.
2. The Pandemic Isn't Just About Quarantine
The effects of a pandemic on mental health are not limited to psychological stress alone. These factors can cause permanent brain damage, which manifests in mood disorders.
The pandemic is not just about being quarantined and coping with the virus without help from others. It's also a public health crisis, which means that other mental health issues might become prevalent among people who have been affected by this pandemic.
For instance, some people who have no history of mental illness find themselves developing anxiety disorders, panic attacks, or depression after the pandemic hit. 
It only makes it harder for substance abusers to recover since they have to deal with the symptoms.
3. A Pandora's Box Of Social Dilemmas
Another hurdle that recovery patients face after the pandemic hit is social dilemmas. According to many experts in addiction recovery services, this pandemic has left people feeling more alone than ever before.
Some people who aren't recovering addicts find themselves feeling lonely because they can no longer communicate with friends or family members. Their loved ones are either in isolation, too busy coping with the pandemic, or worse, have disappeared after contracting the virus themselves.
As for addiction patients, their already tenuous relationships moreover are questioned. The absentees and the people who had to be quarantined and isolated start focusing on loved ones after it's too late.
It leaves drug abusers and alcoholics at a loss on where to focus, which makes addiction recovery even more challenging than before.
4. Social Isolation Among Recovery Patients
There's a greater chance for social isolation to occur due to the pandemic, even if patients can interact with other people. For instance, family members are busy with their problems, so they have no time to help loved ones recover. 
The pandemic's effects make it impossible for family members to offer the support that recovery patients need while overcoming their condition.
The absence of communication between family members who can't provide enough moral support leads to an increase in social isolation. 
It results in recovery patients having to rely on friends or therapy services for their recovery instead of family members.
5. Treatment Is Almost Impossible To Access
Aside from social isolation, the pandemic has made treatment almost impossible to access. According to many rehab service providers, the pandemic has made it hard, if not impossible, to provide authentic addiction recovery services.
The pandemic has now reached its spire, and there's no end in sight. 
If anything, the pandemic is set in place to get worse with time. It means that people who are used to accessing addiction recovery support services will have to wait even longer before finally having access to these services again.
6. Fragmented And Insufficient Government Support
The pandemic is also a problem regarding government support for addiction recovery services. For one thing, there isn't enough funding or facilities to help every patient who desperately needs rehab services to get better and reintegrate back into society.
Until the pandemic is over, it's hard to say if or when addiction recovery services will be able to catch up with the pileup. They are already working at their capacity to deal with the present situation, so more patients might have to wait until things get better.
According to experts in this industry, this is a social problem as it is a mental health crisis. The reintegration of recovering abusers into the community is a challenge our society has yet to overcome, and the pandemic might make this struggle even harder than before.
Alternatives For Recovery Patients During Pandemic
It's easy to see that this pandemic has made it more difficult for people who suffer from addiction to recover, but options are still available. These include:
Residential Rehabilitation Centers
One of the best alternatives to addiction recovery services is residential rehabilitation centers. Many people recovering from addiction opts for this facility instead because of its therapeutic environment.
Aside from having 24/7 personal care, patients can also focus on their treatment while using the same facility's amenities and support services. It helps them focus more on their recovery rather than worrying about the other aspects of living. 
At the same time, residential rehab centers also give direct support to family members who can't offer enough moral support at home. This way, patients don't have to worry about their loved ones struggling on their own if they go away for some time.
Outpatient Rehabilitation Centers
Another alternative to addiction recovery services is outpatient rehabilitation centers. This type of facility is more economical and offers many of the same benefits as residential rehab centers or clinics. It means that addiction patients can get outpatient care without leaving their home area.
Of course, outpatient facilities don't offer all the amenities that residential treatment centers provide. However, there's still something about the fact  recovering addicts can continue with their lives without sacrificing too much of their time and resources.
This type of treatment allows people to handle all their responsibilities at home, perfect for family members who need help with things around the house or children who need care while their parents are away.
Online Addiction Recovery Services
Another alternative for support is online addiction recovery services. People can now go online to receive treatment or follow through with their therapy sessions with the Internet. It means that anyone who wants help with their condition can easily connect with people in the same situation without leaving home.
On top of that, people who would like to get better without going into rehab can easily connect with support groups and other people in recovery through online communities. It's a popular choice among those who don't have any severe mental health conditions or issues stopping them from moving towards recovery. 
Drug And Alcohol Hotlines
Last but not least, there's also the option of calling drug and alcohol hotlines for help. 
All people have to do is contact these lines whenever they feel like they can't get through their day-to-day lives without the use of substances.
When these people call these hotlines, they can receive support and guidance to help them in their struggles. They may also be able to get tips on how to properly manage their condition even when they're not receiving any therapy or treatment at all.
Final Thoughts
As long as people are committed to getting better no matter what, nothing stops them from finally becoming healthy again. It may take time to recover if someone has been using substances heavily for quite some time, but it's possible if they receive the right kind of support at home and in rehab.
Comments
comments