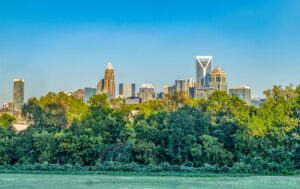 Charlotte is cosmopolitan, vibrant, and growing quickly. It's a melting pot of people, arts, entertainment, and opportunity. Stats show that, on average more than 100 people have been relocating to Charlotte every day for the last few years. 
If you're considering joining the crowd, here are some reasons to see it through. 
1. A Fast-Growing Metropolitan Area
The great thing about moving to Charlotte is that it is easier to get here. There are several removal companies from cities not too far away, such as Marietta movers.
And moving here is something a lot of people are doing! The city is experiencing exponential growth. It is currently about the 15th biggest city in the country. During 2017 and 2018 alone, the city grew by 13,151 residents. There are hundreds of people moving in every month.
2. A Strong Economy
One of the top reasons people are moving to Charlotte is that its economic growth is consistent compared to other states. It is higher than the growth rate of places like Miami, Jacksonville, and even Atlanta. 
The city's economy counts for 26% of North Carolina's GDP. Charlotte's economy is worth about $130 billion, which makes it the financial capital of the Southeast. 
The city is also known to have an abundance of jobs. The unemployment rate is only around 4.9%, and the city's average salary is higher than the national median. 
3. Business Diversity
The city's economic drivers are diverse, making it a place that suits many different people and their business interests. Banking is a major business activity in the city, and it is the country's second-biggest banking epicenter. 
Microbreweries are also booming. There are currently around 50 cider and beer breweries throughout Charlotte. This makes for fun weekend outings!
4. Charlotte Is Affordable
Living costs in Charlotte are below the national average. According to Payscale, the cost of housing in Charlotte is about 14% below the country's average. The cost of groceries, utilities, and transportation are also below the average. 
5. Loads of Culture, History, and Entertainment 
Did you know that the city is named in honor of German princess Charlotte of Mecklenburg-Strelitz? The county Charlotte is based in, Mecklenburg, gets its name from her as well. You'll see a statue of the princess at Charlotte airport. 
By the by, the airport is ranked sixth in the nation on operations, and it's the 11th biggest airport when it comes to passenger totals. Over 44.4 million passengers traveled through the Charlotte Douglas International Airport in 2016.
Charlotte also has a vibrant musical scene, with many world-class venues to enjoy concerts and shows. The local culinary scene is a force to be reckoned with as well. 
6. An Active Sporting Community
Charlotte loves their Charlotte Knights baseball team, and their Carolina Panthers NFL team, amongst others. You'll get to look forward to the annual Belk Bowl and ACC Football Championship events. 
Active sports enthusiasts can join local clubs, ski in the mountains, or surf in the coastal region. You won't be bored with what Charlotte has to offer sports-wise.
7. Spectacular Seasons 
Each season in Charlotte is clearly defined. You'll get to experience the full glory of spring, summer, fall, and winter. The city's tree canopy coverage is vast, so fall foliage is gorgeous to behold. 
Even though it is much warmer than up north, you'll still get a few snow days in winter. Summer is also balmy and pleasant.
Some Closing Thoughts
As you can see, with its booming economy, high salaries, low cost of living, cultural diversity, and entertainment opportunities, moving to Charlotte could be excellent for you and your family. Be sure to do your research into your business niche before you move. Also, be sure to find the best removal company to help you make the transition.
Comments
comments