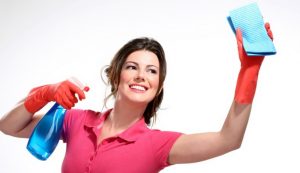 It's the responsibility of every business owner to ensure cleanliness within their premises. As a business owner, you have a lot to worry about, but you shouldn't worry about minor issues such as how clean your office is. To relieve yourself of this burden, hiring a janitorial company is the next best option. In this article, we'll discuss why contracting a cleaning company is beneficial for your business. 
1. Professional services
Since they've undergone training, cleaning experts such as Charlotte commercial cleaning company offer businesses high-quality cleaning services. They know which tools to use and the correct procedures to follow. Expert cleaners offer services like office, restroom, breakroom cleaning, and sanitization and disinfection.
Some cleaning companies supply businesses with trash bags, paper towels, sanitizers, hand soap, feminine products, and hand towels. Their supervisor keeps track of these supplies to ensure they don't run out. These companies offer services like power washing, tile and carpet cleaning, window washing and treatment, dusting tables, and cleaning bathrooms.
2. Boosts productivity
The fact that your employees don't have to clean helps them focus on their duties, which leads to increased productivity. Hiring professional cleaners also enables you to focus more on your work instead of micromanaging cleaning duties, boosting your productivity.
3. Cost-effective
Hiring professional cleaning experts is an excellent administrative decision that can help your company cut down costs because you don't have to spend on cleaning tools, equipment, and detergents. A cleaning company will provide tissue, sanitizers, hand soap, hand towels, and other cleaning products, which saves the company money. They also get more done in less time, giving your business value for money.
4. Workplace hygiene
Hiring professional cleaners ensures that your company observes the set office and commercial recommendations because they follow the required procedures, tools, equipment, and skills to give your premises a sparkling look.
5. Reduces liability risks
Office cleaning comes with risks, such as slips and falls leading to severe injuries or death. The liability risk shifts to the cleaning company once you contract them. A cleaning company has to ensure that its employees are insured against work-related occurrences.
6. Boosts corporate image
Quality cleaning standards set and achieved by hiring a janitorial company give your business a professional look and feel. This may lead to other brands wanting to associate with you because of how professionally you present your brand. A spotless office leaves a lasting impression that may keep clients coming back.
7. Protects your investment
Professional cleaners use the right tools and detergents to clean your furniture, office equipment, and appliances, and clean carpets with great care to ensure that they remain in good shape. This makes them last longer, saving you repair and replacement costs.
8. Creates a healthy work environment
A clean office helps to foster a healthy working environment, as your employees will feel motivated to keep coming back to work as opposed to when the office space is filthy.
Endnote
Outsourcing cleaning services is beneficial for your business in so many ways. The above benefits are enough reason to convince businesses to outsource cleaning services. 
Comments
comments