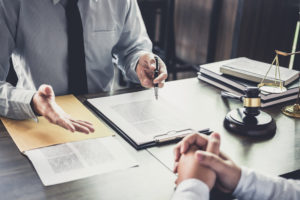 Need a Personal Injury Attorney? Let us delve into learning about the role played by a personal injury attorney in your case. They are civil litigators representing clients, mostly referred to as plaintiffs. They would handle the claim resulting due to the injuries caused by the negligence or careless acts by another person, entity, company, organization, or government agency. Personal injury attorneys would practice in an area of tort law. Such an area of law specializes in private or civic wrongs or injuries, non-monetary or monetary damages. 
The specific responsibilities and roles to be taken by a personal injury attorney would be based on the types of cases along with facts surrounding the accident. However, there have been several general steps taken in every case. 
Find following some of the actions performed by personal injury attorneys. 
Collection and examination of evidence 
Be it a car accident, construction accident, truck wreck, sidewalk fall, or a product liability case, rest assured that the initial stages of the case deal with acquiring the essential evidence quickly. It may entail – 
hiring an investigator for obtaining statements from witnesses 

taking pictures of the condition that causes the injury 

obtaining police reports 

collecting medical records 

retrieving surveillance footage 
The initial stages of any case have been often vital for litigation. Find an attorney that does not take shortcuts. Look for an attorney offering free consultation services. Moreover, the attorney should be willing to handle your case on a contingency basis. They would be paid only when they win the case for you. Until then, the attorney has to bear the expenses incurred on the case. He or she would be paid after he or she has won the claim for you. 
Dealing with the insurance company and its lawyers 
Another important role of an injury attorney would be to interact and negotiate with insurance companies. From the time, your insurance company receives the notice of any claim, they would conduct their investigation and invariably reach out to the counsel of the plaintiff and discuss the claim. After you have hired an attorney, an insurance company or their lawyers would prohibit you from getting in touch from contacting you along with all communication that goes through the personal injury attorney. Your attorney must work in your best interests when dealing with an insurance company. 
Preparing and filing pleadings 
Your lawyer should initially prepare and file a complaint with the applicable court where your case is maintainable. Your attorney should contact you and confirm specific information that might be requested in most of the pleadings. These pleadings would be created and finalized by your attorney. 
Representing a client at deposition and trial 
Your attorney would represent you at the time of deposition and during the trial. Depositions have been vital for every case and the job of your attorney would be to prepare you for the deposition and for attending or representing you at the deposition. The attorney should also represent you in the court of law to help you acquire the deserved compensation amount. 
Comments
comments