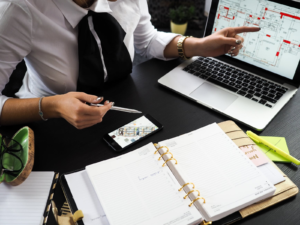 The art and science of selling items and services over the internet are known as online marketing. Science is the research and analysis required to measure the performances of such initiatives.
What is the Process of Online Marketing?
To communicate with present and potential customers, internet marketing uses several digital, online, and electronic methods. The message may be in the form of an image, a piece of text, or a video, and it could be transmitted in a variety of ways. It might be as basic as a social media feed, or it could be as sophisticated as a multi-modal, multi-channel approach that includes social media, email newsletters, websites, and other platforms.
The style of online marketing that is best for your business will be determined by several factors, including the nature of your business, the habits and demographics of your target market, and your budget. Market research will guide you to the best approach or combination of strategies for your offers, and rigorous performance assessments will show you which are the most effective.
Online Marketing Types
There are almost as many different sorts of online marketing as there are different ways to find information on the internet. However, there are a few approaches that have proven to be effective.
Search Engine
Search engine optimization (SEO) and search engine marketing (SEM) are two types of online marketing. When someone searches for an item that is relevant to your offer, SEO software fine-tunes the language on your business website so that it ranks higher in search engine result listings. Optimizing your website to perform better in search results is free, and a high-ranking website can bring in a lot of organic traffic.
Paid search marketing, on the other hand, is referred to as SEM. When a user conducts a search using one of your keywords, us\er pays a fee to display your ad.
Advertising on the Internet
There are numerous types of online advertising options available. Banner advertising inserted in web pages is one method. Interstitial adverts, which display before or between sections of content, are another alternative. On their platforms, several social media companies, such as Facebook, sell advertising.
Email
You can use email to send out newsletters and personalized product or service offerings tailored to the demands of your customers. You may also keep your consumers informed about corporate news, future events, and special offers by sending them an email.
 Email marketing is a particularly successful approach to reach potential consumers once you've created a subscriber email list of people who could be interested in your products or services because your message will land in their inbox, where they're more likely to see it.
Keep in mind you can always use email marketing software tools like MailChimp or ActiveCampaign that will help you have a successful marketing campaign.
The Internet and Social Medi
Twitter, Facebook, LinkedIn, Instagram, and Pinterest are all examples of social media platforms that can be used for online marketing. They're most effective when used as part of a larger content marketing plan that stresses the quality and utility of the content you produce for your company.
Blogging
Another strategy to communicate with your customers and keep them informed about your products or services is to create a blog. A blog can be used to provide information and solicit feedback.
The more value you can deliver to customers through your blog's expertise, the more you establish your brand as a reliable source. This can encourage people to take a chance on your product.
Comments
comments