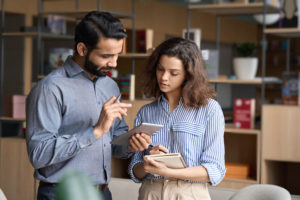 Have you ever been warned to be careful with the kind and amount of content you share online? It is essential to be considerate of the type of content you put out there because you will be vulnerable.
When companies are doing their typical new employee screening, they get access as a third party to see the content they share on social media platforms. This content might deny you a job, especially if you posted something inappropriate.
Similarly, fraudsters and criminals might find a way to access that information and use it against you. That can be by conning or blackmailing you for information or images you shared with someone or on a platform.
So a quick question would be, what happens to your digital content when you pass away? Well, not many people spend too much time thinking about that because the thought of death is terrifying. 
However, in the ever-growing technological age, some might consider tools such as a digital afterlife to keep all your stuff intact to be shared by your family.
What is a digital footprint?
A digital footprint is content that displays your visible online presence. It is the track record of your exclusive use of the internet. Some of the examples of digital footprints include
Your search history

Images and videos (inclusive of the deleted ones)

Loves, favorites, and likes on social media platforms

Text messages (inclusive of the deleted ones)

Tagged photos (even the ones you didn't authorize)

Browsing history (even in Incognito mode)
It is everything that you do on the web. Your digital footprint stores tons of information about you: your likes, fears, and everything you desire and hate. That's a lot of information that you wouldn't want to be leaked to a third party.
How Does Data Arrive in Your Digital Footprint?
There are multiple ways that your data can arrive in your digital footprint. Some include as simple as signing up to a website, subscribing to a newsletter, leaving an online review, posting something on social media, etc. Sites have a way of tracking your activity through the installation of cookies to your device, and applications can collect your data unknowingly and unwillingly.
An organization can gain access to your personal information and share or sell it to a third party. Worse case is that your data might be leaked or compromised in attempts of data breaching. With these risks and fears on the line, how can you manage your digital footprint? Is having a digital afterlife proper?
How to Manage Your Digital Footprint?
There are multiple ways to manage your digital footprint to avoid any leakage of your information. Some of the choices to opt for include
Map your digital footprint

Clean up or erase your digital footprint

Be cautious of who you authorize access to your information

Moderate and monitor public website comments about you

Think before posting anything

Get to find out what information about you is available on social networking sites.

Remove any revealing content, photos, links, and videos

Opt for privacy features for your browser

Consider private accounts or block comment features on social media.
Digital footprint contains a lot of information about you that third parties shouldn't access. Ensure you take the necessary measures to manage your digital footprint.
Comments
comments