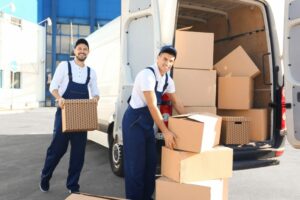 Moving is such a big undertaking that comes with a lot of challenges. But luckily, there are cheap moving companies associated with Moving Apt that are offering their help at affordable rates that will make your entire move easier and more efficient. You just have to decide what services you want from them and then sit back & relax and watch how they will perform all these jobs.  Of course, handling enormous relocation tasks is very difficult and daunting so it is better to have a completely convenient one without even lifting a finger you will get all the job done with the help of professionals. So, what services you can get from them then have a look at these. 
Full service
People who don't have time and effort, choose to get these services from professionals at affordable rates. In this, movers will handle almost all the relocation tasks and an individual taking their services doesn't have to worry about relocation jobs. You don't have to stress about anything from finding the right truck to buying the packing supplies to all hectic relocation jobs such as loading, unloading, packing, unpacking, and so on. when hiring full-service movers, you should ask for a request for an outline of the services that they offer. 
Customized
In this, an individual selects the number of services he/she requires to complete the job. In this most people choose to get loading, unloading and transportation services from the companies and packing is done by themselves only. One can get the services from movers as per their requirements and needs. 
Storage services 
Cheap moving companies also offer storage services, storage services are required when an individual finds himself out of space. Also, sometimes the moving out day and moving in date does not match with each other and an individual requires storage space to keep their home possessions stored for one to two days if a move out date is 17 and the move-in day is 19 then there is need to keep the possessions stored somewhere.
Rigging through windows  
Do you possess any large items that can't be shifted through narrow staircases and doorframes present at your home? Are you worried about how will you shift all your possessions? If yes then you don't need to. In such a case, a rope and pulley rigging system is available at the movers in which the items can easily be moved through a very tight space without causing any damage to these.  
Packing 
If you are worried about the packing of the fragile, delicate, and awkwardly shaped items to pack and transport safely then getting packing services from professionals is an ideal option. With their huge experience working in the same industry, they are well aware of all the techniques that help them to safely pack their delicate belongings. Do you know the right preparation and the right type of packing is crucial to transport the items safely to the destination? So, don't take the task into your hands especially the packing of the delicate items if you don't want to damage these. 
Unpacking 
In this, the movers will unpack the entire items after reaching the desired location and then the leftover packing materials have been disposed of in the right manner. They will also help you in organizing your stuff at the right places. 
Assembly and disassembly of heavy furniture items 
During the relocation process, there are numerous numbers of heavy and large furniture items that are needed to be assembled and dissemble into smaller pieces for moving. To do the job effectively, one needs to consider using professional services especially when it comes to expensive furniture items. They have the right tools and also, they are well experienced and know the right techniques to do this effectively. 
Loading and unloading 
Handling and lifting heavy items mean putting yourself at risk of an injury. After completion of packing up of materials, they will load all the entire boxes into the large truck by themselves. They are well experienced and have the right tools to perform the job so it is better to leave the job on their hands only.  
Installation of appliances 
Installation and transportation of the appliances are some of the most difficult tasks during moving. If you are not handy and have lost installation manuals then it will be very difficult to figure out how to hook up the same appliances at your new home. Installation of proper wiring will be required so for those, who want to get the service of the right installation of their kitchen appliances, get help from the movers. 
Wrapping it all up!!! 
You should never put up all your belongings at risk. Get help from movers and take the required services from them as per your needs and then you don't have to worry about anything. 
Comments
comments