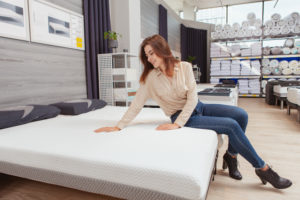 Are you looking for a new bed set for your master bedroom? Perhaps you have a room opened up in your home that you want to turn into a guest bedroom. No matter why you need a bed set, most people are on a tight budget when buying big-ticket items like bedroom furniture. With most furniture stores offering interest-free financing, most people can work out how to afford a new bed set.
But even though you have flexibility in what is included in the bedroom set and financing, it can be well worth it to browse the net looking for ways to save on your bedroom furniture. The more you can save, the faster you can own your furniture outright. Here are some ways to save the most money on a new bed set so that you can get higher quality at a lower price.
Clearance items
Furniture brands often offer severely discounted clearance items from previous seasons. Most of these are swooped up by individuals trying to flip them for a profit, but there is no reason you can't take advantage of it as well. If you can't find bed sets on clearance with the brand that you like, check out online furniture stores that grab these clearance deals to turn a profit. You'll pay higher than brand clearance sales, but you'll still be saving a bundle.
Wait around for sale events
There are quite a few popular sale events that almost all retailers observe, even furniture retailers from around the world. Why? Because commercialism abounds, and offering sales makes people think that they are getting a great deal when in reality their local furniture stores are marking up the cost significantly.
In any case, you can use this to your advantage by shopping bedroom sets on or surrounding these applicable sale days:
Memorial Day

Labor Day

Black Friday, Small Business Saturday, and Cyber Monday

Veterans' Day

Seasonal Clearance events
These sale days are so popular that online furniture stores also observe these holidays. But then again, shopping for new bedroom furniture online has some serious perks.
Buy your new bed set online
The best way to save on your bedroom set is to buy online. Not only do they have all of the same sale events as your local furniture store, but they also tend to offer significant discounts year-round on select brands, furniture collections, or individual bedroom furniture pieces. You'll save even more when you decide to get more than just the simplest bed set. Your local furniture dealer will charge extra shipping and handling costs to have these pieces sent to them from the brand manufacturer or wholesaler. But if you buy from an online furniture store, you will be able to get all the pieces you want without those extra fees.
In addition, online furniture stores rarely charge shipping fees. While you won't be getting the white glove delivery service you could get from your local brick and mortar furniture stores, you could save hundreds with this benefit alone. When you purchase bed set on 1StopBedrooms, your total will almost certainly be high enough to qualify for free shipping.
With all of these benefits, why would anyone shop anywhere else?
Comments
comments