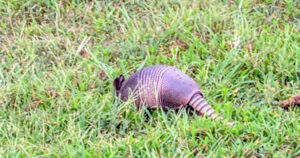 North Carolina is now the latest US state to experience a recent surge in the invasive 9-banded armadillo. The unique mammal loves to tear up yards – digging hundreds of holes in a single day to find enough bugs and grubs to satisfy its hunger.
According to the North Carolina Wildlife Resources Commission, "the Nine-banded Armadillo, native to Central and South America, was first recorded in Texas in 1849, but have since expanded their range north and east, crossing the Mississippi River sometime in the early 1940's, appearing in western Tennessee in 1980 and reaching North Carolina in the late 2000s, primarily from natural dispersal from adjacent states."
Here's a recent siting from a local backyard:
View this post on Instagram
If you spot an armadillo in your yard, please share your photos on the recently launched NC Armadillo Project.
So far, there have been a total of 71 armadillos officially reported in North Carolina (the closest sightings to Charlotte have all been in Gastonia):
Have you seen an armadillo in North Carolina yet?
Comments
comments