Just after 7pm last night, several vandals shot up a number of electric substations around Southern Pines, NC (about an 1 1/2 hours east of Charlotte), knocking out the power to over 40,000 residents.
An official statement from the Moore County Sherriff's Office reads: "As utility companies began responding to the different substations, evidence was discovered that indicated that intentional vandalism had occurred at multiple sites."
Several power substations were damaged and taken offline by gunfire knocking out power to 40,000 residents in Moore County, NC. Gun stores were robbed. A drag show was cancelled. A local extremist implied that's why the power was cut.

A thread: 🧵https://t.co/vUzdC7mlRC pic.twitter.com/9CXF1EhSWO

— Alejandra Caraballo (@Esqueer_) December 4, 2022
At this time, authorities have not released any official information regarding suspects or motives surrounding the attacks.
The timing and location of the attacks seem to surround a highly controversial "Drag Show" that was scheduled to take place at 7pm at the Sunrise Theater in Downtown Southern Pines, NC.
Here is the location of the Drag Show:
Here is the power outage map from Duke Energy: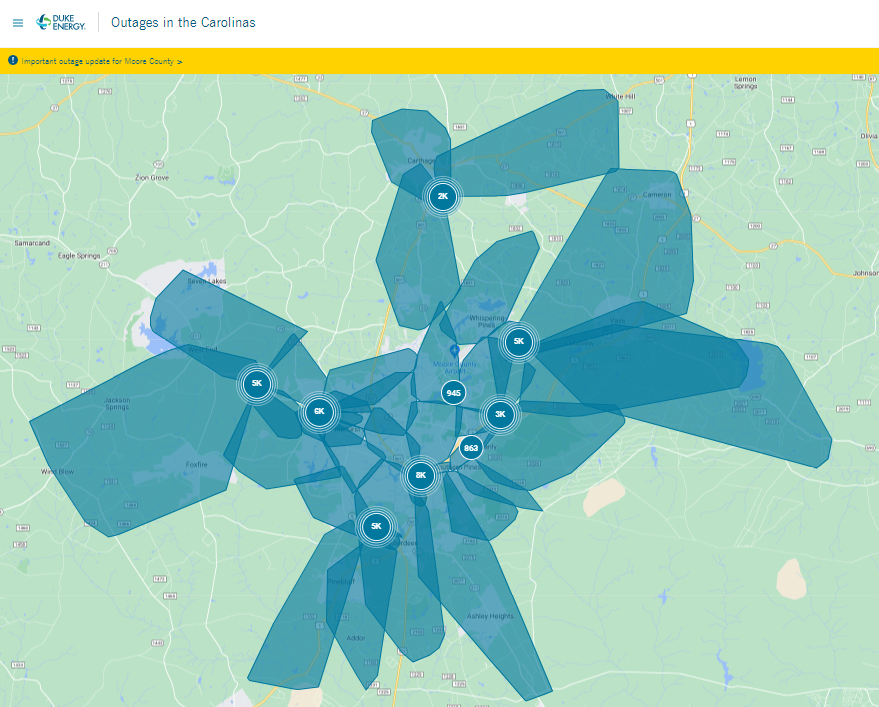 Early this morning the Moore County Sheriff's Department visited the home of Emily Moore, the director of 'Moore County Citizens for Freedom' group, who posted "The power is out in Moore County and I know why."
Minutes later she also posted a picture of the lights out at the Sunrise Theater with the caption, "God will not be mocked".
About 2 hours later, the police came to her home. She then posted the following message on Facebook:
"The Moore County Sheriff's Office just checked in. I welcomed them to my home.
Sorry they wasted their time. I told them that God works in mysterious ways and is responsible for the outage. I used the opportunity to tell them about the immoral drag show and the blasphemies screamed by its supporters.
God is chastising Moore County. I thanked them for coming and wished them a good night. Thankful for the LEOs service, as always."
Republican State Delegate Sarah Fields also initially posted seeming support of the attack, using the hashtags #ProtectChildren and #ImOKWithIt in reference to the attack (she soon removed the #ImOKWithIT hashtag after making the post):
This person posted a tweet appearing to endorse the firearms attack on the substations, then edited the tweet to remove an approving hashtag. pic.twitter.com/pjph5do8fE

— charlotteclymer@mastodon.social (@cmclymer) December 4, 2022
There will now be a press conference held by the Moore County Sherriff's Department this afternoon at 4pm:
This is an ongoing investigation and we will update this article when new information is released.
Comments
comments