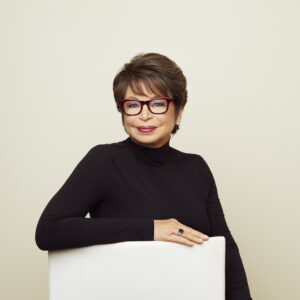 Levine Museum of the New South has announced Valerie Jarrett will serve as keynote speaker at the Museum's third annual fundraiser, CataLysT presented by PNC Bank. Inspired by the theme Voices Amplified: A Celebration of Storytelling, History & Hope, this in-person event will be held June 2 at Byron's South End and supports Levine Museum's work to build a stronger, more equitable community through history, culture and celebration.
Valerie Jarrett is chief executive officer and a member of the board of directors of the Barack Obama Foundation. She is also a senior distinguished fellow at The University of Chicago Law School and was a senior advisor to former President Obama. Jarrett's bestselling memoir, Finding My Voice: My Journey to the West Wing and the Path Forward, details her lifelong commitment to public service and her accomplishments as senior advisor to President Barack Obama from 2009-2017. During her distinguished career, Jarrett has championed the creation of equality and opportunity for all Americans, as well as the economic and political empowerment of women in the U.S. and around the world.
"More than 30 years ago, Levine Museum of the New South redefined the role a history museum could play in its community by telling everyone's story and by using those stories to foster empathy and inspire engagement. Today, we are building on that legacy of innovation, inclusion and community service as we bring the Museum out into Charlotte neighborhoods where we will tell authentic stories through traditional exhibits, dialogues and digital experiences," said Kathryn Hill, Museum president & CEO. "As a change-maker and community-builder, Valerie Jarrett has been a catalyst for change in every position she has held. Her message of hope and resilience could not be more fitting for this occasion."
CataLysT celebrates Levine Museum of the New South, Charlotte's premier history museum. For more than 30 years, Levine Museum has hosted exhibits, programs and experiences that deepen the public's understanding of the region, provoke dialogue about today's most critical issues and inspire civic engagement. Ohavia Phillips will serve as emcee for this evening of food, fun, fellowship and engaging music from Carolina Social Music Club. PNC Bank returns as the presenting sponsor of CataLysT for its third year.
"All of us at PNC recognize Levine Museum's vital role in fostering awareness for the cultural and historical events that have shaped our region," said Weston Andress, PNC regional president for Western Carolinas. "This event helps support the future of this dynamic institution, while ensuring its educational resources remain accessible to all."
Levine Museum serves schoolchildren and educators, long-time residents, newcomers and tourists, using history to build a just, equitable community. Proceeds raised from CataLysT will support this continued effort. For sponsorship opportunities and ticket information, visit museumofthenewsouth.org/catalyst.
Comments
comments