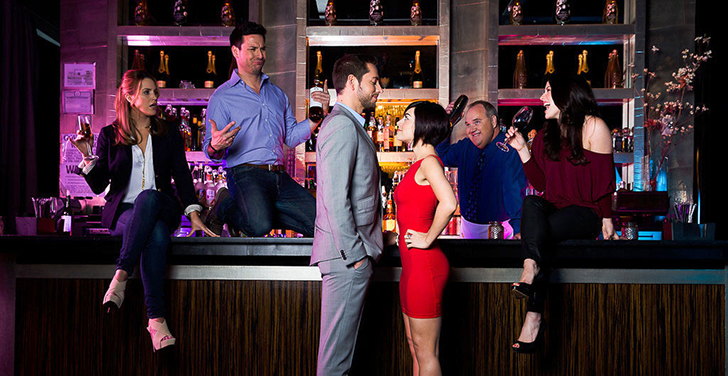 With Valentine's Day just around the corner, it's time to start looking for outfit ideas. Whether you're planning a romantic date or looking for a killer look to hit the dancefloor at the disco, we've got some stylish outfit ideas and tips to share with you. 
Red, Pink and Black
Valentine's Day is the perfect excuse to pull out your favourite red or pink dresses and evening skirts. These colours are a staple in any girl's wardrobe and are one of the most obvious choices when it comes to creating a festive look for a special occasion. No matter whether you're celebrating St.Valentine's Day at home or in a restaurant, wearing a red bodycon dress, a stretchy pink midi or a black cocktail dress from shiny fabrics will help you make a statement and produce a long-lasting impression on the man of your life. To enhance the effect, you may want to complete your look with a pair of embellished earrings, a nicely textured purse, high heels and your favourite perfume. More inspirational outfits ideas in red, pink and black colours can be found here: online-stylist.co.uk. 
Reveal Some Skin
If you want to look romantic without letting it all hang out, show some skin. Wearing a casual bodycon dress with a low cut V-neck will make you look alluring, youthful and attractive and won't send any wrong signals to your partner and people around. The main rule here is to not go overboard and focus on one area. For example, if you want to show off your slender legs, you can wear a midi or mini bodycon dress but instead of choosing a deep V-neck cut opt for a high neck. And if you'd like to keep focus on your bust, a good combinatination will be to wear a plunge top and a modestly-cut skirt (pencil models, flared, etc.). 
Do Not Go Tight
No matter how old you are, steer clear from wearing clothes that are too tight for you. Squeezing into clothes with size tags smaller than you actually are will not flatter your figure and make you look only bigger. 
To look sexy and not silly, you need to opt for things made of fabrics that have some stretch, feel fitted and can skim your body and flatter your shape without making you look like a stuffed sausage, which is not sexy at all. Wear clothes made of soft and stretchy fabrics. These will flow over your body and highlight your beautiful curves. One of the classic outfits to wear for Valentine's Day is a wrap dress. It can put the right accents on your body, hug your waist and gently lift your bust without revealing too much flesh. 
Wear a Sweater
Knitted clothes are another great Valentine's outfit that many women seem to underrate when choosing an outfit for a date. Slipping into a cosy cashmere sweater or a fitted knitted dress will make you look very feminine and make your man want to grab and snuggle you. Wear a golden necklace and a pair of pearl stud earrings if you want to add a bit of flare and romance to your look. 
Floral Prints
Long gone are the days when floral prints were worn only in spring and summer. Today floral pieces are over a wide range and can be easily worn all year round. To create an interesting outfit for a romantic date in a restaurant, wear a flared dress with floral print in watercolour pastels and ground it down with shoes, a purse, a scarf and earrings in neutral, solid or metallic colours. Another great option that will look romantic and beautiful is wearing a top or blouse with floral print and toning it down with a solid skirt, pants or a leather black jacket. For the opposite effect, you can amp up the look by adding a bright coloured purse and metal jewellery. Floral pieces look gorgeous and suit women of all ages and shapes. 
Wake Up a Tiger
If you want to look feminine and flirty, yet transmit a powerful seductive message to your partner, wear things with animal print. These clothes do not go out of fashion and can help build an interesting outfit that will look bold but not too much and signal energy, passion and power. To create a seductive outfit it's enough to wear only one detail with animal print – shoes, a scarf, a skirt, or a purse – and pair it with darker or more tonal combinations. 
Sequins Is Your Secret Weapon
Sequins on clothes and even on accessories can add a touch of romance to your look and help transmit a romantic message to your partner. Besides, even when combined with basic clothes, tops or skirts with sequins will not lose against the background and let you look very festive.
Makeup
The eyes are the mirror of the soul, especially when it comes to the eyes of women. Applying the right makeup to your eyes can amp up their beauty, highlight their depth and add a little mystery to your look. While there are many makeup ideas to try out, the ultimate variant that goes well with almost any clothes ensemble is the dark smokey eye. Define the shape of your eye with a deep black liner and add a little smudging in either dark grey, brown or even blue shade on the upper eyelid. An eye makeup like this will make you look sexy, playful and passionate and let you be the center stage for your man all day (and night). However, like with everything, it's all about balance. To make your smokey makeup attractive and not gaudy or vulgar, you should keep the rest of the colours (lips, blusher, etc.) neutral and soft. 
Following these tips and recommendations in mind, it'll be very easy to dress up for Valentine's day and be the star of the night. 
Comments
comments