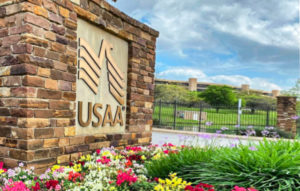 USAA announced today the hiring of Chief Accounting Officer Brad Weber, Bank Chief Risk Officer Mani Sulur and Senior Vice President, Financial Risk, George Stamatelatos. All three executives will be based out of USAA's new Charlotte headquarters. The company also announced that it's increasing minimum pay from $16 to $21 per hour, or $43,680 annually, and looking to fill 2,600 positions nationwide including approximately 50 in the Charlotte area.
"USAA's employees are the heart of our association and providing a competitive pay and benefits package is one way we reward them for providing exceptional service to military members and their families," said Wayne Peacock, President and CEO of USAA. "Increasing our minimum pay and enhancing our already comprehensive benefits package helps ensure we're being responsive to our employees' needs and dynamically changing market conditions."
In addition to the minimum pay increase, USAA is enhancing many of its benefits to include:
No medical, dental or vision insurance premium increase in 2022
USAA Childcare Reimbursement Program for employees making less than $100,000 base pay
New college scholarship program for employee dependents with a financial need
New paid leave program for family events such as caring for a sick family member
Family support benefit up to $20,000 to cover adoption, surrogacy, and infertility treatment expenses
You can find out more about their benefits, compensation, and apply for jobs in Charlotte on their career site here.
Comments
comments