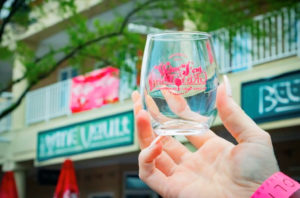 University City Partners is excited to announce the return of the annual wine festival. The event has found a home during a new time of year–fall. The festivities will take place on October 22 in the heart of University City at Armored Cow Brewing Co.
The 2022 festival will feature over 50 different wines, ciders and brews. Attendees will experience four hours of access to sample local, regional, national and global wines and drinks while enjoying live music and access to local small business vendors.
"We are honored to return as the title sponsor of this vibrant event, that brings together the best of what University City has to offer the community," said Sagar Rathie, Managing Director of Crescent Communities. "Crescent is vested in developing communities with exceptional placemaking with the intention of creating spaces that connect people and build community, but it is programmed events like the University City Wine Fest that activate and bring together residents, guests, and employees in these great places," said Katie Maloomian, Director of Crescent Communities.
Ticket purchases include responsible sampling over the course of four hours. Early admission tickets include five hours of sampling and a souvenir glass. VIP tables are available for a party of 10 and includes a table and chairs, four bottles of wine, unlimited tastings and one-hour early entrance to the festival.
Crescent Communities University City Wine Fest was created to deliver a culturally enriching community experience in the Charlotte region. It has attracted attendees from across the region and up the East Coast who stay in University City hotels near the lake and boardwalk. The affair also supports local small businesses including local brewers and artisans who will present goods for sale throughout the day. The festival is accessible by LYNX Blue Line at JW Clay Blvd Station and designated driver tickets are available for purchase.
Tickets and are available online at universitycitywinefest.org. More information can be found on the website, Facebook and Instagram.
Comments
comments