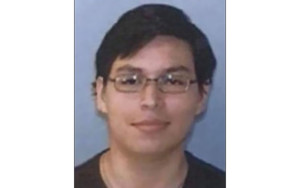 UNCC campus police are now on the alert for a student who made threats to 'shoot the university up' and who was recently released from police custody.
Earlier this month, 20-year-old Matthew Recoy Saavedra, a student at UNCC, went to a doctor in King, NC to talk about his mental health issues and was noted in saying "he could not wait to buy a gun and shoot the university up," according to the Charlotte Observer.
This past week, Saavedra was charged with a felony for making a false report concerning mass violence on education property.
Police used a search warrant to raid his off-campus apartment, where they found a campus emergency response guide opened to the active shooter response and evacuation pages on his wall and searches for school shootings and videos about death on his computer.
UNC Charlotte Police took out a warrant and Sheriff's deputies in Forsyth county arrested him this past Tuesday. Less than 24 hours later, Saavedra's mother helped him post his $12,000 bond and he is reportedly now with family in Forsyth County.
Since his warrant and arrest, Saavedra has been banned from coming onto the UNCC campus.
Comments
comments